Lobster & Steak Tartine with Béarnaise Mayonnaise
Summer 2015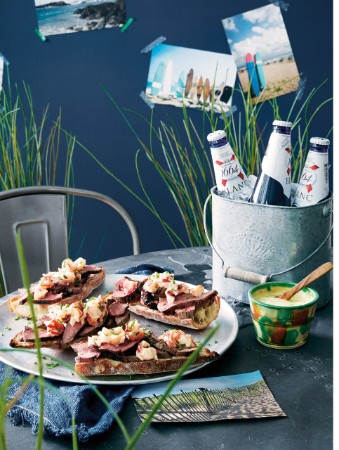 Lobster & Steak Tartine with Béarnaise Mayonnaise
Summer 2015
BY: Victoria Walsh
This recipe riffs on the classic lobster roll but in a surf 'n' turf style with the decadent addition of sliced lemon-marinated steak and homemade mayo. In a pinch, save time by using the shortcut mayo recipe that follows.
MARINATED GRILLED STEAK
1½ lbs (750 g) flank steak
2 tbsp (30 mL) lemon juice
2 tbsp (30 mL) vegetable oil
¼ tsp (1 mL) chili flakes
¾ tsp (4 mL) kosher coarse salt

BÉARNAISE MAYO
2 egg yolks
2 to 3 tsp (10 to 15 mL) white wine vinegar or lemon juice
½ tsp (2 mL) Dijon mustard
⅓ cup (80 mL) vegetable oil
⅓ cup (80 mL) olive oil
1 tbsp (15 mL) finely chopped fresh tarragon
Pinches salt, to taste

2 steamed and shelled lobsters, each 1½ lbs (750 g)
1 large baguette
1 tbsp (15 mL) chopped fresh chives (optional)
1 Place steak in a resealable plastic bag or container. Pour lemon juice and oil overtop. Sprinkle with chili flakes. Massage into meat. Marinate in the fridge for at least 4 hours or overnight. Remove from fridge about an hour before grilling. Sprinkle with salt. Bring to room temperature.

2 Place yolks, 2 tsp (10 mL) vinegar and mustard in a food processor. Whirl until mixed. With motor running, very slowly pour oil (vegetable, then olive oil) in a thin steady stream. Add tarragon and salt. Pulse to mix. Taste and adjust vinegar and seasoning if you like. If making ahead, press plastic wrap over the surface of the mayonnaise and refrigerate overnight for up to one day.

3 Just before serving, coarsely chop lobster. Place in a medium bowl. Stir in enough Béarnaise Mayonnaise to moisten, about ½ cup (125 mL).

4 Cut bread in half lengthwise, then cut twice crosswise, so there are 6 pieces.

5 Preheat barbecue to medium-high.

6 Remove steak from marinade and discard marinade. Grill steak for about 2 minutes per side until seared. Continue grilling until cooked as you like. This will take approximately 2 to 3 more minutes for medium-rare. Remove from grill to a carving board. Loosely cover with foil. Let rest for 5 to 10 minutes, then thinly slice.

7 Arrange steak slices over each piece of bread. Top with lobster mixture. Sprinkle with chives. Serve immediately alongside a small bowl with remaining mayonnaise for guests to top up, if they like.

SHORTCUT BÉARNAISE MAYO

Stir ½ cup (125 mL) mayonnaise, 2 tsp (10 mL) freshly squeezed lemon juice, ½ tsp (2 mL) Dijon mustard, 2 tsp (10 mL) finely chopped fresh tarragon and pinches of salt in a small bowl.
SHARE