Loaded Smoked Cheddar & Chili Potato
Autumn 2017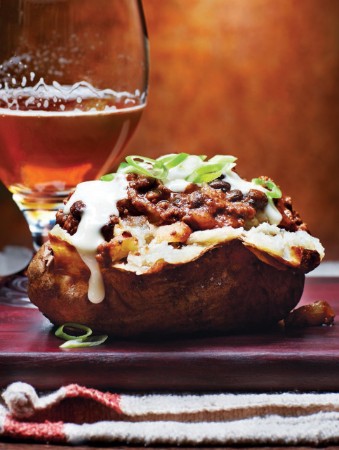 Loaded Smoked Cheddar & Chili Potato
Autumn 2017
BY: Christopher St. Onge
Turn potatoes into dinner with a simple chili and wickedly good cheese sauce. Smoked cheddar is my favourite burger cheese, but it might be even more delicious on baked potatoes. It's easier to find than ever, available in blocks at many large grocery stores.
4 russet potatoes, about 5 lbs (2.2 kg) total weight
3 tbsp (45 mL) grape-seed, canola or sunflower oil, divided
Salt and freshly ground pepper
1 onion, chopped
2 cloves garlic, finely chopped
8 oz (250 g) ground beef
1 tbsp (15 mL) chili powder
2 tsp (10 mL) ground cumin
¼ cup (60 mL) tomato paste
1 cup (250 mL) beef broth or water
1 cup (250 mL) canned black or navy beans, drained
Hot sauce to taste
6 tbsp (90 mL) salted butter, divided
2 tbsp (30 mL) all-purpose flour
1¼ cups (310 mL) milk
6 oz (175 g) smoked cheddar, coarsely grated
Pinch cayenne
4 green onions, chopped
1. Preheat oven to 350°F (180°C).

2. Place potatoes in a large bowl and drizzle with 2 tbsp (30 mL) oil; season liberally with salt and pepper. Place directly on centre rack and bake for 70 to 75 minutes or until tender.

3. Meanwhile, heat remaining 1 tbsp (15 mL) oil in a medium saucepan over medium heat; cook onion until golden, 6 to 7 minutes. Add garlic; cook an additional minute. Crumble beef into pan and brown, breaking apart with a fork as you go. Sprinkle chili powder and cumin over, stir in tomato paste and broth. Add beans, bring to a gentle boil and cook for 6 to 8 minutes or until thickened; season with salt, pepper and hot sauce to taste. Set aside and keep warm.

4. In a separate pot over medium heat, melt 2 tbsp (30 mL) butter; whisk in flour. Slowly pour milk over butter mixture, whisking as you go, until no lumps remain. Bring to a boil and cook until thickened, about 1 minute. Whisking constantly, add cheese in 3 handfuls, stirring between each until cheese is melted before adding more. Season sauce with salt and pepper to taste; stir in cayenne.

5. Split top of potatoes and fluff flesh with a fork. Divide remaining 4 tbsp (60 mL) butter between them. Divide roughly half of the cheese sauce between the potatoes, then the chili; top with remaining cheese sauce. Sprinkle each with an equal amount of green onion.
SHARE