Little Gem Hand Salad
Early Summer 2021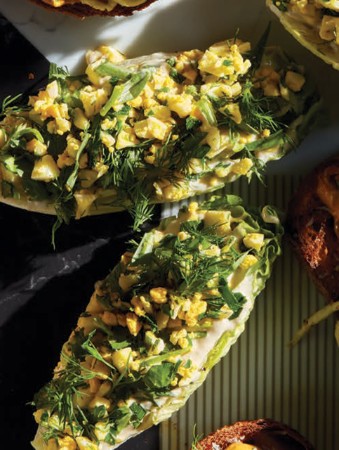 Little Gem Hand Salad
Early Summer 2021
BY: Christopher St. Onge
This salad owes a debt to Wildair, a cutting-edge New York wine bar with some of that city's most exciting plates. The dressing here is tuna salad in liquid form, takes a minute or so to make in a blender, and is topped with chopped egg and plenty of summery herbs— in other words, it's a tuna salad, only way better looking. There's enough dressing to save some for tomorrow's grilled or raw veg.
DRESSING
1 cup (250 mL) mayonnaise
2 cans (80 g each) tuna in olive oil
2 tbsp (30 mL) drained capers
1 tbsp (15 mL) lemon juice
3 anchovy fillets
Freshly ground black pepper to taste
1/4 cup (60 mL) each roughly chopped fresh dill, tarragon and parsley
2 hard-boiled eggs, finely chopped
8 heads Little Gem lettuce
Olive oil for drizzling
1/2 a lemon
Salt
1. For the dressing, combine mayonnaise, entire contents of cans of tuna, capers, lemon juice and anchovies in a blender. Process until very smooth. Season with pepper. Scrape into a small bowl, cover and refrigerate for up to 3 days.

2. When ready to serve, combine dill, tarragon, parsley and eggs in a small bowl. Cut lettuce in half lengthwise. Drizzle cut side of each with a small bit of olive oil and squeeze a few drops of lemon juice overtop. Season each with a little salt. Working with 1 lettuce half at a time, spoon a generous amount of dressing over cut surface, spreading to edge, then sprinkle herb and egg mixture over dressing. Repeat with remaining lettuce, arrange on a platter and serve.
SHARE