Linguine with Roasted Butternut Squash & Crispy Pancetta
Autumn 2014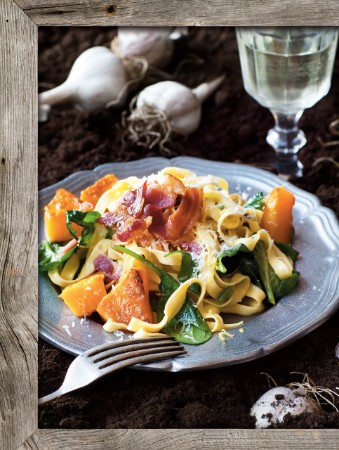 Linguine with Roasted Butternut Squash & Crispy Pancetta
Autumn 2014
BY: Marilyn Bentz-Crowley
Pancetta is Italian streaky bacon rolled into a cylinder. Pancetta is cured, but not smoked, and comes in two versions—sweet and hot, much like Italian sausage. Autumn squash has a colourful deep orange interior and butternut squash is especially delicious when roasted.
½ medium butternut squash
or 12 oz (375 g) peeled squash
6 cloves garlic
6 to 8 oz (175 to 250 g) thinly sliced pancetta, preferably not paper-thin
1 lemon
⅓ cup (80 mL) olive oil
1 tsp (5 mL) sugar
½ tsp (2 mL) hot red chili flakes
Several grindings of black pepper
½ tsp (2 mL) salt
1 lb (500 g) dry linguine or fettuccine
4 cups (1 L) lightly packed baby spinach leaves
1 cup (250 mL) freshly grated Parmesan cheese
1 Cut off narrow neck of squash just where it joins bulbous lower half; set lower half aside for another use. Cut off stem; standing upright, thinly cut away peel.
2 Cut squash crosswise into ¾-inch-thick (2-cm) rounds. Cut each round into irregular pieces about 1 to 1½ inches (2.5 to 4 cm) long. Peel garlic cloves; leave whole but thinly cut off rough end. Set squash and garlic aside.

3 Arrange oven rack just above oven centre. Preheat oven to 400°F (200°C).

4 Line a large, rimmed baking tray with aluminium foil. Lay pancetta, overlapping as needed, in a single layer. Bake above oven centre for 10 minutes; remove from oven. Pancetta has shrunk; arrange so slices are not overlapping. Continue baking, checking every 3 to 5 minutes until golden and crispy. Remove pancetta to drain on paper towels; leave fat on tray.

5 Place squash pieces on tray; turn so they are coated with fat. Arrange in a doughnut fashion. Place garlic cloves in centre; stir garlic so coated with fat. Roast 10 minutes; turn squash and stir garlic. Continue roasting for another 10 to 15 minutes or until squash is golden and tender. Leave squash on tray to keep warm. Remove garlic to a plate; mash with a fork.

6 Meanwhile, zest lemon; set half aside for garnish. Squeeze 2 tbsp (30 mL) juice. Stir mashed garlic cloves into oil along with lemon juice, sugar, chili flakes, pepper and half of lemon zest.

7 Bring a pasta pot half-filled with salted water to a boil over high heat. Add linguine; boil according to package directions, usually about 8 minutes, or until just al dente. Scoop out about ½ cup (125 mL) of pasta water; then drain pasta.

8 Turn linguine into a large warm bowl; toss with olive oil mixture until coated. Leaving 12 pieces of pancetta whole, crumble the rest over pasta. Add spinach. Toss, adding some reserved pasta water, if needed, for extra moisture.

9 Serve right away in warmed bowls garnished with roasted squash, pinches of lemon zest, a sprinkling of Parmesan and reserved pancetta pieces as garnish. Pass remaining Parmesan and a shaker of hot chili flakes at table.
SHARE