Linguine with Clams
Spring 2009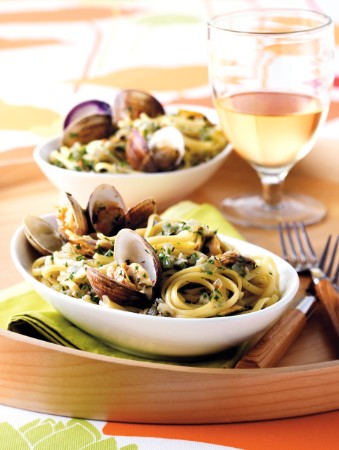 Linguine with Clams
Spring 2009
BY: Lucy Waverman
The classic Italian pasta. I have adapted the recipe from the chef at a wonderful inn we stayed at in Puglia. He added sautéed tomatoes to his version, which you can certainly do.
1 lb (500 g) linguine
1⁄4 cup (50 mL) olive oil
1 tbsp (15 mL) chopped garlic
1⁄2 cup (125 mL) finely chopped onion
1⁄2 tsp (2 mL) chili flakes
1⁄4 cup (50 mL) choppedItalian parsley
2 tbsp (25 mL) chopped chives
1 cup (250 mL) dry white wine
3 lbs (1.5 kg) pasta clams
1⁄4 cup (50 mL) butter, at room temperature
1. Bring a large pot of salted water to boil and add linguine. Boil for 10 minutes or until al dente. Drain, reserving 1⁄2 cup (125 mL) of the pasta cooking water.

2. While linguine is boiling, heat 1⁄4 cup (50 mL) olive oil in a large skillet or sauté pan over medium heat. Add garlic, onion, chili flakes, 2 tbsp (25 mL) parsley and 1 tbsp (15 mL)chives and sauté for about 2 minutes or until flavours have combined. Add wine and bring to boil. Add clams and boil until clams open, about 2 minutes for pasta clams and 5 minutes for regular. Remove clams as they open.

3. Reduce heat to simmer and add pasta. Reserve 12 clams for garnish, and remove clams from remaining shells. Add clams to pasta and toss together, adding up to 1⁄4 cup (50 mL) of pasta cooking water if dry. Add butter and remaining parsley and chives. Cook until clams are hot and season with salt and pepper if necessary.

4. Garnish each serving with 3 clams still in their shell.
SHARE