Lime-Miso-Dressed Salmon with Wonton Crisps
Early Summer 2013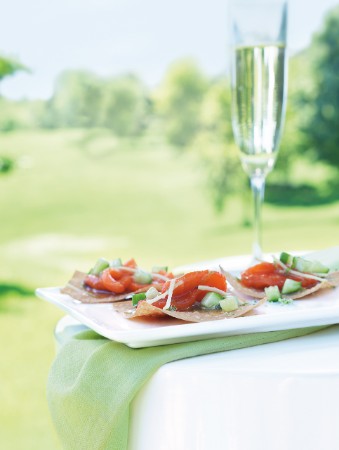 Lime-Miso-Dressed Salmon with Wonton Crisps
Early Summer 2013
BY: Christopher St. Onge
Purchase salmon you intend to eat raw from a reputable fishmonger who'll allow you to give the fish a whiff; impeccably fresh wild salmon will smell faintly of fresh water and cucumber, and not at all fishy. You'll find the combination of flavours in these pretty bites refreshing and bright. Because the fish is finished with a lime-miso dressing, it's best to serve the crisps and cucumber topping separately as the crisps would become soggy if assembled ahead of time.
WONTON CRISPS
½ tsp (2 mL) salt
¼ tsp (1 mL) sugar
1½ tsp (7 mL) finely grated lime zest
12 square wonton wrappers
2 tbsp (30 mL) peanut or vegetable oil

DRESSING
1 tbsp (15 mL) fresh lime juice
1 tsp (5 mL) finely grated lime zest
1 tbsp (15 mL) mirin
½ tsp (2 mL) white miso
¼ tsp (1 mL) salt
¼ tsp (1 mL) sesame oil
5 oz (150 g) very fresh wild salmon fillet, skin and pin bones removed
2 tbsp (30 mL) finely slivered ginger
1 cucumber, 6 inches (15 cm) long, diced
1 For the wonton crisps, preheat oven to 400°F (200°C).

2 In a small bowl, combine salt, sugar and lime zest. Set aside.
3 Arrange wonton wrappers on a baking sheet in a single layer. Brush each with oil, turn over and brush other side. Bake for 6 minutes, sprinkle with salt mixture and return to oven for 1 to 2 minutes longer or until golden and crisp. Allow to cool to room temperature. (Wonton crisps may be made up to2 days in advance and kept, tightly covered, at room temperature).

4 For the dressing, whisk together lime juice and zest, mirin, miso, salt and sesame oil. (If making ahead, cover and refrigerate for up to a day).

5 Place salmon in freezer until thoroughly chilled and just beginning to freeze, about 20 minutes. Using a very sharp knife, slice into ⅛-inch-thick (3-mm) pieces. Arrange on a chilled plate, drizzle with dressing, and sprinkle slivered ginger over. Serve wonton crisps and cucumber on the side to allow guests to assemble their own bites.
SHARE