Lettuce Wraps with Miso-Glazed Arctic Char
Summer 2015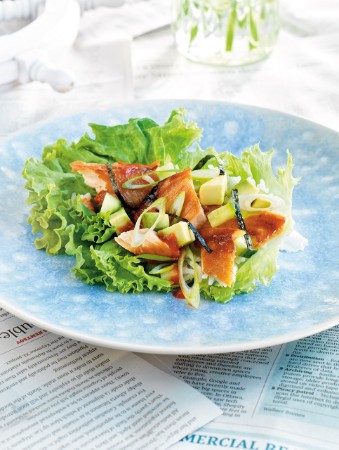 Lettuce Wraps with Miso-Glazed Arctic Char
Summer 2015
BY: Tonia Wilson-Vuksanovic
These delicious wraps have similar ingredients to a California roll, with the added bonus of healthy and flavourful Arctic char to make them a substantial meal.
2 tbsp (30 mL) white miso paste (Shiro-style)
3 tbsp (45 mL) soy sauce
1 tbsp (15 mL) honey
1 tbsp (15 mL) hot water
2 fillets (sides) Arctic char, skin on and deboned, about 1¼ lbs (625 g)
1 cup (250 mL) uncooked jasmine or other fragrant rice, cooked (as per package instructions) and cooled
3 tbsp (45 mL) rice wine vinegar
1 tbsp (15 mL) vegetable oil
1 avocado, diced
1 sheet nori (optional)
1 cup (250 mL) English or mini cucumbers, finely diced
½ cup (125 mL) green onion, finely sliced on diagonal
1 head green or red leaf lettuce, leaves separated and washed
Sriracha or hot sauce to garnish
1 In a glass baking dish or plastic storage bag, stir together miso paste, soy sauce, honey and hot water. Place fillets in marinade, fleshside down, and let marinate for 1 to 4 hours in the refrigerator.

2 Toss rice with 2 tbsp (30 mL) rice wine vinegar and 1 tbsp (15 mL) vegetable oil.

3 Toss avocado with remaining 1 tbsp (15 mL) rice wine vinegar to prevent browning, and slice nori into small 1-inch (2.5-cm) strips.

4 Heat broiler on high. Place the Arctic char, skin-side down, on an oiled foil-lined baking sheet.

5 Place fish under broiler in top third of the oven. Broil until fish is just cooked through, about 4 minutes depending on its thickness.

6 Once fish has cooled slightly, pull the flesh off the skin in large pieces.

7 Assemble all the fillings (Arctic char, avocado, cucumbers, green onion, rice and nori) and place some of each ingredient in the lettuce leaves. Garnish with hot sauce if desired, wrap and serve.
SHARE