Lentil Walnut Burgers
Été 2009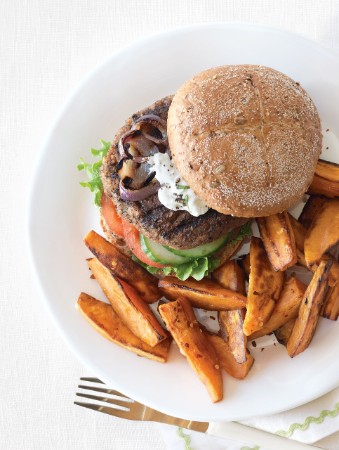 Lentil Walnut Burgers
Été 2009
BY: Nicole Young
The classic burger with all the fixin's is the epitome of backyard barbecuing at its easiest and most casual. This protein-rich burger, packed with lentils, nuts, earthy mushrooms, and an exotic hint of cumin will tempt even the most committed carnivores. It's filling and satisfying without being stodgy, and it beats hands-down something you might pick up from the freezer aisle. For a lower-carb option, serve the patty on a bed of greens or, for the full burger experience, in a toasted bun with a side of French fries—why not try sweet potato? The challenge in making vegetarian burgers is to give them a consistency that can withstand the grill. Cooked lentils make an ideal binder and allow for easy flipping—just make sure your greased grill isn't too hot, to prevent sticking.
1 cup (250 mL) red lentils
2 cups (500 mL) water
1 tbsp (15 mL) olive oil
1 cup (250 mL) finely chopped onion
4 cloves garlic, minced
1 tsp (5 mL) ground cumin
1⁄2 tsp (2 mL) each salt and fresh cracked pepper
1 cup (250 mL) finely chopped walnuts
1 cup (250 mL) finely chopped cremini mushrooms
1⁄4 cup (50 mL) finely chopped fresh cilantro
1⁄2 cup (125 mL) fresh bread crumbs
1. In a small saucepan, bring lentils and water to boil over medium-high heat.Reduce heat to maintain a simmer, cover and cook until all the water has been absorbed, about 15 minutes. Remove from heat and let cool.

2. In a skillet, heat oil over medium-high heat; cook onion until tender, about 5 minutes. Stir in garlic, cumin, salt and pepper; cook 1 minute. Stir in walnuts and mushrooms; cook until mushrooms are completely tender and no liquid remains, about 5 minutes. Let cool slightly. Stir in cilantro, bread crumbs and lentils to combine. Form into 4 patties.

3. Grill over medium heat on greased grill, turning once, until crisp and golden on each side, about 12 minutes.

4. Serve on grilled whole grain buns with grilled onions, cucumbers, tomatoes and tzatziki.
SHARE