Lentil Salad
Holiday 2005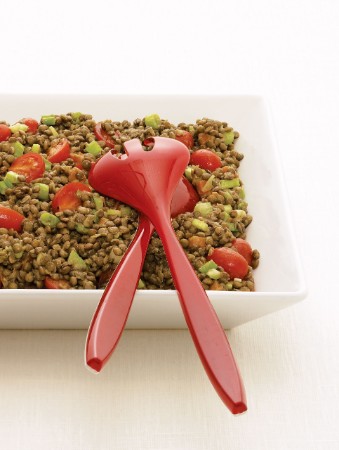 Lentil Salad
Holiday 2005
BY: Jennifer McLagan
Winter lettuces often look sad and unappetizing, so try this lentil salad, which is delicious and can be turned quickly into a meal with the addition of cooked meat. Use the small grey-green French Du Puy lentils. They hold their shape better and have a superior flavour.
1 1/3 cups (325 g) French lentils (Du Puy)
1 small carrot, peeled and halved crosswise
1 small onion, peeled and halved
2 celery stalks with leaves
1 clove garlic, peeled
1 bay leaf
Salt and freshly ground pepper
1 tsp (5 mL) Dijon mustard
2 tbsp (25 mL) white wine vinegar
½ cup (125 mL) olive oil
3 green onions, thinly sliced
1 container cherry or grape tomatoes, halved
1. Rinse the lentils well. Cut the 2 carrot halves lengthwise. Place them in a saucepan with the rinsed lentils, onion, 1 celery stalk, garlic clove and bay leaf. Add 4 cups (1 L) water and season with salt and pepper.

2. Bring to a boil, then reduce heat and simmer for 20 to 25 minutes or until the lentils are tender. Be careful not to overcook the lentils. Check them regularly after 15 minutes. Strain into a sieve. Discard the liquid and all the vegetables except the carrot.

3. Tip the lentils into a bowl. Whisk the mustard and vinegar together, then season well. Add the olive oil and whisk together. Check the seasoning then pour over cooked lentils, stirring gently to mix. Leave to cool.

4. Slice the cooked carrot sticks and dice the remaining celery stalk. Add them to the lentils with the green onions and tomatoes. Season well with salt and pepper and mix gently.
SHARE