Lentil & Sweet Potato Soup
Autumn 2010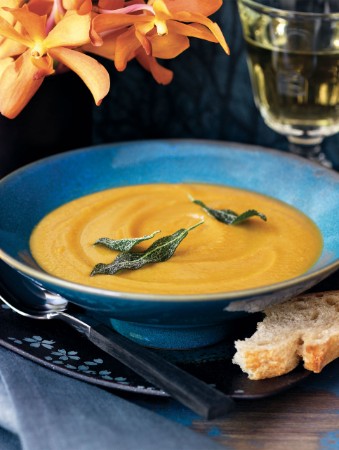 Lentil & Sweet Potato Soup
Autumn 2010
BY: Lucy Waverman
This colourful and tasty mixture of sweet potatoes and lentils makes a healthy and bright soup to start off this special dinner. Lentils add protein to the mix and the spicing, although not hot, adds a depth of flavour. Vegetable stock is available at many supermarkets. You could use water but the taste would not be as robust.
2 tbsp (25 mL) olive oil
1 cup (250 mL) chopped onion
1 cup (250 mL) chopped carrot
3 cups (750 mL) peeled and chopped
sweet potatoes
1 tsp (5 mL) chopped ginger
¼ tsp (1 mL) chili flakes
½ tsp (2 mL) cinnamon
½ cup (125 mL) red lentils
5 cups (1.25 L) vegetable stock
¼ cup (50 mL) whipping cream, optional
Salt and freshly ground pepper
1 tbsp (15 mL) lemon juice
1 tbsp (15 mL) maple syrup

Garnish

1 tbsp (15 mL) vegetable oil
¼ cup (50 mL) sage leaves
1. Heat oil in a pot over medium heat. Add onions and sauté for 2 minutes or until they begin to soften. Add carrots and sweet potatoes and sauté for 5 minutes.

2. Add ginger, chili flakes and cinnamon and sauté for 1 minute or until fragrant. Add lentils and stir to coat with oil.

3. Add stock and bring to a boil. Reduce heat to medium-low and simmer for 20 to 25 minutes or until vegetables are very soft and lentils have exploded.

4. Purée soup in food processor or with hand blender. Return to pot, stir in whipping cream and season with salt and pepper. Stir in lemon juice and maple syrup. Reheat when needed.

5. For garnish, heat oil in a small skillet over medium-high heat and fry sage leaves for 30 seconds or until crisp. Drain on paper towels. Place on soup.
SHARE