Lemony Fava & Pecorino Spread
Summer 2011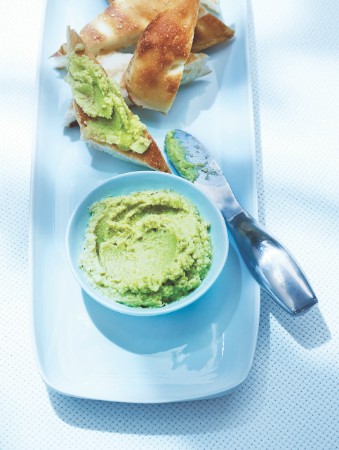 Lemony Fava & Pecorino Spread
Summer 2011
BY: Christopher St. Onge
Admittedly, shelling broad beans (favas) is a little work but the ease with which this spread comes together more than compensates. To shell the fava beans, remove the outer pod and boil the beans in their tough individual skins for 7 to 9 minutes or so, until the beans themselves are tender. Cool under running water to make them easier to handle and then squeeze the beans out and discard the skins.
1½ cups (375 mL) cooked and shelled fava beans
1/2cup (125 mL) finely grated Pecorino Romano
1 tbsp (15 mL) lemon juice
1 tsp (5 mL) lemon zest
¼ cup (60 mL) extra virgin olive oil
1 clove garlic
1 tbsp (15 mL) water
Freshly ground black pepper
1 Combine all but the pepper in a food processor and blend until light, fluffy and almost smooth. Season with a generous grinding of black pepper.

2 Serve alongside toasted baguette slices or warm flatbreads.
SHARE