Lemon-Grilled Shrimp with Feta and Tomatoes
Early Summer 2008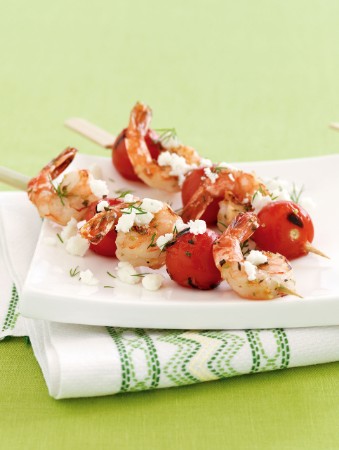 Lemon-Grilled Shrimp with Feta and Tomatoes
Early Summer 2008
BY: Heather Trim
Plump, juicy, lemon-marinated shrimp are grilled to perfection then given a Greek spin with a sprinkling of fresh tomato, dill and feta.
½ lb (250 g) large uncooked peeled shrimp, if frozen thaw
1½ tbsp (22 mL) lemon juice
1 tbsp (15 mL) olive oil
2 garlic cloves, minced
½ tsp (2 mL) dried oregano leaves
8 small wooden skewers
½ cup (125 mL) cherry tomatoes
Salt and freshly ground pepper
⅓ cup (75 mL) crumbled feta
1 tbsp (15 mL) coarsely chopped fresh dill
Thin lemon wedges
1. Preheat barbecue to high and lightly grease grill. In a bowl just large enough to hold shrimp, whisk lemon juice with oil, garlic and oregano. Add shrimp and stir.

2. After 20 minutes, remove shrimp from marinade. Skewer randomly with tomatoes. Sprinkle with salt and pepper. Place on barbecue, turning occasionally, grill until shrimp are no longer pink and tomatoes begin to burst, 4 to 6 minutes in total.

3. Divide among 4 appetizer plates or serve on a small platter. Sprinkle with feta then dill. Serve with lemon wedges.
SHARE