Lemon Grass Chicken Pot Pie
Holiday 2009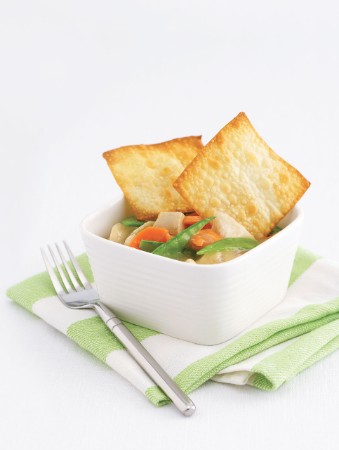 Lemon Grass Chicken Pot Pie
Holiday 2009
BY: Emily Richards
This Asian-inspired pot pie is laid back in its presentation with a casual crisp wonton on top. It's a light pot pie, perfect for a Sunday afternoon lunch.
2 stalks lemon grass
4 cups (1 L) low-sodium chicken broth
6 slices fresh ginger
4 cloves garlic
½ tsp (2 mL) Asian garlic chili sauce
1 lb (500 g) boneless skinless chicken breasts (about 3)
2 carrots, chopped
1 cup (250 mL) snow peas,
cut in half on the diagonal
2 tbsp (25 mL) cornstarch
1 tbsp (15 mL) sesame oil
8 wonton wrappers
Sea salt
1. Trim tops and ends of lemon grass. Remove outer layers. Using back of knife gently bruise stalks. Cut in half lengthwise, then crosswise into thin slices.

2. Bring chicken broth, lemon grass, ginger, and Asian garlic chili sauce to boil in large saucepan. Reduce heat and simmer for 10 minutes.

3. Add chicken and cook for about 13 minutes or until no longer pink. Remove chicken breasts to cutting board and cut into bite-size pieces. Using slotted spoon, remove ginger, garlic and lemon grass and discard.

4. Preheat oven to 425°F (220°C).

5. Add carrot and snow peas to broth and simmer for 3 minutes. Add chicken and return to simmer.

6. Whisk cornstarch with 3 tbsp (45 mL) water and whisk into saucepan and cook for 2 minutes or until thickened. Add 1 tsp (5 mL) of the oil and remove from heat; keep warm.

7. Brush wonton wrappers with remaining sesame oil. Place on parchment-paper-lined baking sheet and sprinkle with sea salt. Bake in oven for about 5 minutes or until golden and crisp.

8. Ladle mixture into large ramekins or French onion soup bowls and top with wonton crisps before serving.
SHARE