Leek, Chicken & Feta-Stuffed Pitas
Début de l'été 2010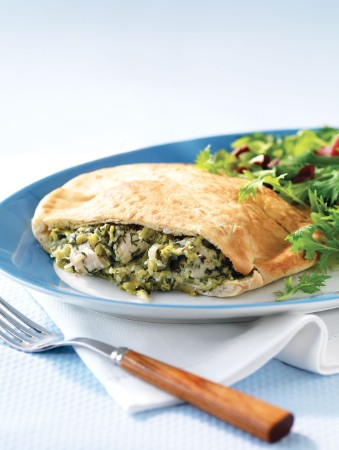 Leek, Chicken & Feta-Stuffed Pitas
Début de l'été 2010
BY: Emily Richards
The flavour of chicken marries delightfully with leeks and feta to produce a light meal that is perfect served with a mixed green salad for dinner or lunch.
3 tbsp (45 mL) extra virgin olive oil
4 green onions, sliced
4 cloves garlic, minced
4 cups (1 L) thinly sliced leeks, white and
light green part only (2 large or 3 small leeks)
12 oz (375 g) chopped boneless skinless
chicken breasts (2 large or 3 small breasts)
¼ cup (50 mL) chopped fresh dill
Salt and pepper
¾ cup (175 mL) crumbled feta cheese
3 tbsp (45 mL) freshly grated
Parmesan cheese
1 egg
¼ cup (50 mL) chopped fresh mint
4 thick pocket pitas
1. Preheat oven to 400°F (200°C).

2. Heat 2 tbsp (25 mL) of the oil in large nonstick skillet over medium heat and cook onions, garlic and leeks for 12 minutes or until softened. Increase heat to medium-high heat and add chicken and dill. Cook, stirring for 8 minutes or until chicken is no longer pink inside. Let cool slightly. Season with salt and pepper to taste.

3. Stir in feta, Parmesan, egg and mint until well combined.

4. Open pita pockets slightly on 1 side trying to keep most of it sealed, and stuff with chicken mixture. Place on parchment- paper lined baking sheet and brush pitas with remaining oil and bake for about 15 minutes or until filling is hot and pitas are crispy.

Tip: Look for fresh pita pockets so they are easy to open. Warm them slightly in a microwave to help open them if you have some difficulty before stuffing them.
SHARE