Leek & Olive Tart with Two Cheeses
Holiday 2020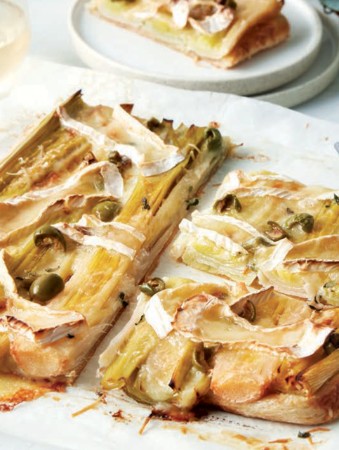 Leek & Olive Tart with Two Cheeses
Holiday 2020
BY: Amy Rosen
The combination of brie, leeks and olives is as elegant as it is approachable. With little effort there's a big payoff of a stunning, crisp tart packed with flavour.
3 large leeks, white and pale green parts only, about 7 inches (18 cm) long
2 tbsp (30 mL) extra virgin olive oil
1/2 tsp (2 mL) kosher salt
½ lb (225 g) all butter puff pastry, store bought
1 large egg
1 tbsp (15 mL) water
1/4 cup (60 mL) pitted black or green olives, chopped
1 tsp (5 mL) chopped fresh thyme
1/4 cup (60 mL) grated Parmesan
4 oz brie (115 g) or Camembert sliced into 8 slices, each 3 inches long (8 cm)
1. Preheat oven to 350°F (180°C).

2. Slice leeks in half lengthways and place on a baking sheet, insides up. Drizzle with olive oil and sprinkle with salt. Place insides down and bake leeks for 25 to 30 minutes. Once soft to the touch, set aside and cool.

3, While leeks are baking, roll out puff pastry to a 9 x 9-inch (23 x 23-cm) square. Place rolled-out dough on a parchment-lined baking sheet and in freezer until leeks are cooked and cooled.

4. Beat together the egg and water. Remove puff pastry from freezer and brush pastry with egg and water mixture.

5. Arrange cooled leeks on puff pastry side by side with insides up. Evenly scatter olives over leeks and then evenly sprinkle with thyme and Parmesan. Arrange brie slices over the tart, each slice slightly offset. Bake in preheated oven for 30 to 35 minutes until pastry is golden brown and bottom is crisp. Let cool slightly and serve warm.
SHARE