The Crobster
Early Summer 2017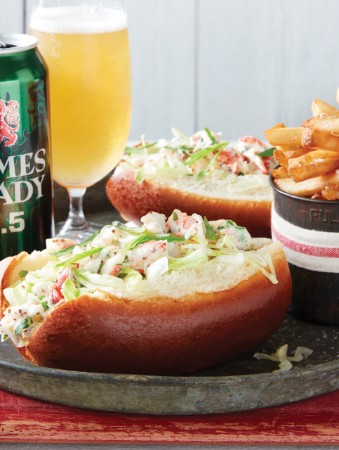 The Crobster
Early Summer 2017
BY: Renée Lavallée, The Canteen Restaurant
Chef Renée Lavallée makes four generous sandwiches from this amount of filling; we've stretched it to six. You can buy cooked crab and lobster meat either canned, frozen or, in some stores, vacuum-packed. Be sure to drain the seafood very well. If steaming fresh lobsters, two will be enough.
½ cup (125 mL) mayonnaise
¼ cup (60 mL) grainy mustard
1 tbsp (15 mL) white truffle oil
1 tbsp (15 mL) grated lemon zest
1 tbsp (15 mL) chopped fresh tarragon
2 tsp (10 mL) chopped fresh chives, optional
Salt and freshly ground pepper to taste
1 lb (500 g) lobster meat, roughly chopped
1 lb (500 g) snow crab meat
6 brioche or hot dog buns
2 tbsp (30 mL) unsalted butter, softened
2 cups (500 mL) finely shredded iceberg lettuce, about ½ head
Tarragon leaves for garnish, optional
1 Preheat oven to 300°F (150°C).
2 In a bowl, stir together mayonnaise, grainy mustard, truffle oil, lemon zest, tarragon and chives (if using). Season well with salt and pepper. Combine well-drained lobster meat and snow crab meat with mayonnaise mixture.
3 Warm buns in oven for 5 to 7 minutes or until warm. Butter them. Divide crobster mixture into 6.
4 Place lettuce in each bun and top with crobster mix and tarragon leaves, if desired. Serve immediately.
SHARE