Lavender-Chocolate Sorbet
Summer 2016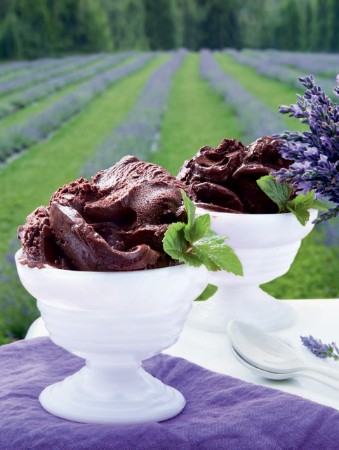 Lavender-Chocolate Sorbet
Summer 2016
BY: Julia Aitken
The chocolate in this decadent sorbet not only adds rich flavour but keeps the frozen treat soft enough to scoop straight from the freezer.
1 tbsp (15 mL) dried culinary lavender
2 cups (500 mL) water
1 cup (250 mL) granulated sugar
½ cup (125 mL) good-quality cocoa powder
2 oz (60 g) good-quality dark chocolate, finely chopped
Fresh berries to serve
Fresh, organic lavender or mint sprigs for garnish
1 In a mortar and pestle, pound lavender to release its oils.

2 In a medium saucepan, stir together water and pounded lavender. Bring to a boil over medium-high heat. Reduce heat to medium and simmer for 2 minutes. Remove saucepan from heat and let stand, uncovered, for 1 hour. Strain water and return to saucepan, discarding lavender.

3 In a medium bowl, whisk together sugar and cocoa powder until almost no lumps remain.

4 Bring lavender water to a simmer over medium heat. Whisk in sugar mixture until smooth. Simmer for 5 minutes, whisking occasionally.

5 Remove saucepan from heat and add chocolate. Stir until chocolate has melted and mixture is smooth. Let cool to room temperature.Chill overnight in fridge.

6 In an ice-cream maker and following manufacturer's instructions, churn chocolate mixture until frozen. Scrape into a 3-cup (750-mL)container and freeze until scoopable, about 6 hours. (Sorbet can be stored in freezer for up to 3 days.)

7 Scoop into individual glasses and garnish with fresh berries and lavender or mint sprigs.
Makes about 2 cups (500 mL), 4 servings
SHARE