Latin Caprese
Summer 2015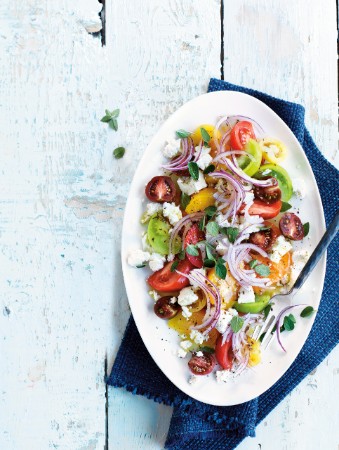 Latin Caprese
Summer 2015
BY: Eric Vellend
The Italian tomato salad gets a Latin makeover with creamy queso fresco, earthy oregano and a cumin-spiked vinaigrette. Making your own queso fresco is as easy as boiling milk, but if you don't have time or access to store-bought queso fresco, firm ricotta is an excellent substitute. (You will need ½ lb/250 g for this recipe.) For maximum visual appeal and a range of flavours and textures, try to source a variety of tomatoes.
QUESO FRESCO
8 cups (2 L) whole milk
1½ tsp (7 mL) fine sea salt
¼ cup (60 mL) white vinegar

CUMIN-LIME DRESSING
1 tsp (5 mL) whole cumin seeds
2 tbsp (30 mL) extra virgin olive oil
2 tsp (10 mL) honey
2 tbsp (30 mL) fresh lime juice

2 lbs (1 kg) mixed heirloom tomatoes
Coarse sea salt and freshly ground pepper to taste
⅓ cup (80 mL) thinly sliced red onion
¼ cup (60 mL) oregano leaves
1 For queso fresco, line a colander with a double layer of cheesecloth. Rinse cloth with water, squeeze dry and re-line colander. Place in sink.

2 Place milk and salt in a large pot over medium heat. Stir occasionally and watch closely, as it easily boils over. The second it starts to simmer, stir in vinegar and remove from heat. Let stand 5 minutes. Pour mixture into colander. Drain 20 minutes. Gather ends of cheesecloth and shape queso fresco into a small disc. Place between 2 plates and weigh down with a heavy canned good. Refrigerate 1½ hours. Unwrap cheese and discard cheesecloth. Cover and refrigerate until ready to use (cheese will keep in fridge for up to 3 days).

3 For cumin-lime dressing, toast cumin seeds in a small frying pan over medium heat until brown and fragrant, 4 minutes. Remove from heat and add oil. Cool completely. Whisk in honey and lime juice. (Dressing will keep, covered and refrigerated for 2 days. Whisk again before using.)

4 Cut large tomatoes into wedges, medium tomatoes into thick slices, and small ones in half. Arrange on a large serving platter. Season with coarse salt and pepper to taste. Cut two-thirds of cheese into small chunks, saving the rest for another use. Arrange over tomatoes. Scatter onion overtop. Drizzle with some dressing. Sprinkle with oregano.
SHARE