Late-Harvest Wine-Marinated Steak with Grilled Greens
Autumn 2019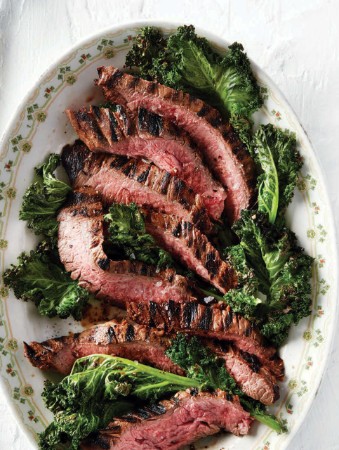 Late-Harvest Wine-Marinated Steak with Grilled Greens
Autumn 2019
BY: Victoria Walsh
Flank really benefits from an overnight marinade. A sweet wine like late-harvest Riesling with its mild acidity (compared to vinegar or citrus) makes a perfect base: it will tenderize without breaking down the meat (acidic ingredients can give meat a mushy texture over a long marination). The grilled result is a perfect bite of beautifully seared, juicy steak. Grilling your greens alongside turns them a touch crispy and off ers an easy side.
1 cup (250 mL) late-harvest Riesling
⅓ cup (80 mL) olive oil
3 tbsp (45 mL) sesame oil
2 green onions, finely chopped
1 tbsp (15 mL) finely grated ginger
1 tbsp (15 mL) ground cumin
1 tsp (5 mL) chili flakes
1 tsp (5 mL) kosher sea salt
2 lbs (905 g) flank steak
GRILLED GREENS
1 bunch hearty greens such as mustard greens or kale
1 to 2 tbsp (15 to 30 mL) olive oil
¼ tsp (1 mL) salt or ½ tsp (2 mL)
kosher sea salt


1 To prepare marinade, whisk wine, olive oil, sesame oil, green onions, ginger, cumin, chili flakes and salt in a medium-size bowl. Place steak in shallow container. Pour marinade over meat and rub all over. Cover and refrigerate at least two hours or overnight. If possible, turn meat in marinade partway through.
2 When almost ready to cook, lightly oil grill and preheat barbecue to high.
3 Brush greens with oil. Lightly sprinkle with salt. Remove steak from marinade. Grill until cooked as you like. This will take about 4 minutes per side for medium-rare. Remove to a carving board. Loosely cover with foil. Let rest for 5 to 10 minutes, then thinly slice.
4 While steak is resting, place greens on grill. Barbecue, until wilted, 30 seconds to 1 minute per side. Remove to plates. Arrange steak slices over greens.
SHARE