Late Berry-Crusted Ontario Lamb Rack with Cinnamon-Roasted Squash
Autumn 2009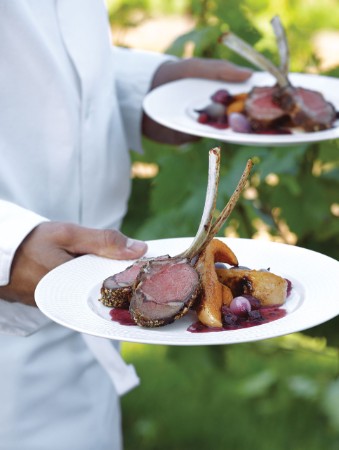 Late Berry-Crusted Ontario Lamb Rack with Cinnamon-Roasted Squash
Autumn 2009
BY: Collin Goodine
Executive Chef-Riverbend Inn & Vineyard

Make the berry crust ahead of time to allow it to cool in time, even a day ahead. An easy way to remove the skins of onions is to soak them in hot water for 20 minutes.
Crust
½ cup (125 mL) cranberries
½ cup (125 mL) blueberries
½ cup (125 mL) raspberries
¼ cup (50 mL) Cave Spring Gewürztraminer
2½ tsp (12 mL) raw sugar
½ tsp (2 mL) ground cloves
1 cinnamon stick
1 vanilla bean, cut in half lengthwise
Pinch salt
¼ cup (50 mL) fresh bread crumbs
¼ cup (50 mL) slivered almonds, toasted
and finely chopped

Squash
1 butternut squash, 1 to 1⅔ lbs (500 to 800 g)
2 tbsp (25 mL) olive oil
1 tsp (5 mL) grated nutmeg
½ tsp (2 mL) cinnamon
1 tsp (5 mL) salt
24 red pearl onions, skins removed

Lamb
2 frenched Ontario lamb racks, each cut in half
Salt and freshly ground pepper

Sauce
1 cup (250 mL) low-sodium chicken or beef stock
2 tbsp (25 mL) pure maple syrup
½ cup (125 mL) mixed berries
¼ cup (50 mL) unsalted butter

1. Combine berries, wine, sugar, cloves, cinnamon stick, vanilla bean and salt in a heavy-bottom pot over medium-low heat. Simmer gently for 15 minutes or until mixture is jammy. Remove cinnamon stick and vanilla bean. Process berry mixture using a hand blender, strain to remove seeds and place in the refrigerator.

2. Combine bread crumbs and almonds in a bowl and set aside.

3. Preheat oven to 400°F (200°C).

4. Cut squash into 8 wedges, about 1 inch(2.5 cm) wide and scoop out seeds and pulp.Place on a baking pan, skin-side down, brush with 1 tbsp (15 mL) oil and sprinkle with nutmeg, cinnamon and salt. Toss onions with remaining olive oil to coat and scatter over squash. Bake for 40 to 50 minutes or until squash is fork-tender. Reserve.

5. Season lamb with salt and pepper.

6. Heat a large ovenproof skillet over high heat. Add lamb, fat-side down, and sear for3 minutes or until golden brown. Turn and sear the back of the lamb for 1 to 2 minutes longer. Discard any rendered fat and turn lamb back onto the fat side; place in the oven and roast for 15 minutes.

7. Remove lamb from oven, turn lamb fat-side up and coat with just enough reserved berry mixture to cover meat. Roll berry-coated side of lamb in breadcrumb and almond mixture to make a crust. Return lamb to oven and bake another 4 minutes, to brown the crust. Remove lamb from pan, reserving the pan for sauce, and let rest 3 to 4 minutes. While lamb rests, return squash to turned-off oven to rewarm.

8. Drain any fat from reserved lamb pan and place over high heat. Add stock, maple syrup and berries, bring to boil and boil for 3 minutes or until slightly thickened. Turn off heat and stir in butter until melted.

9. Divide squash and onions between 4 serving plates. Cut lamb into individual chops and pile decoratively on top of vegetables. Drizzle with sauce.
SHARE