Asparagus Lasagna
Début de l'été 2004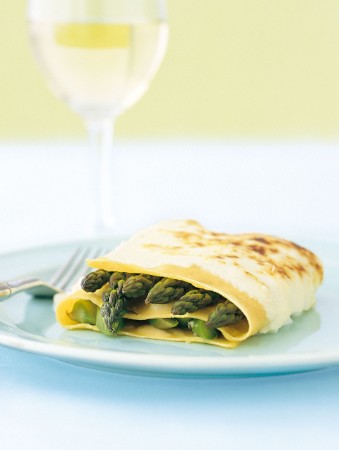 Asparagus Lasagna
Début de l'été 2004
BY: Jennifer McLagan
Traditionally, lasagna is pasta layered with meat, tomato and cheese sauces. For early summer we have reinvented this classic. The result is a dish that lets the asparagus dominate and is individually portioned, making it simple to serve as an appetizer or a main course.
2 tbsp (25 mL) butter
3 tbsp (45 mL) all-purpose flour
1 cup (250 mL) milk
Salt and freshly ground pepper
Pinch freshly ground nutmeg
48 medium asparagus spears, about 1 1/4 lb (625 g)
4 sheets of fresh lasagna noodles
Butter
3 oz (90 g) Gruyère cheese, finely grated
1/2 cup (125 mL) whipping cream
1/2 cup (125 mL) freshly grated Parmesan cheese
1. In a small saucepan, melt the butter over medium heat. Whisk in flour and
continue to cook, whisking for 1 minute. Remove from the heat and slowly whisk in the milk. Return to a low heat and cook, whisking continually until mixture boils and thickens. Season with salt, pepper and nutmeg. Place in a small bowl and cover the surface directly with plastic wrap. Set aside to cool.

2. Bring a large pot of salted water to a boil. Trim the asparagus and tie together in bunches of 6. Drop into the boiling water, and simmer until just cooked about 5 minutes. Remove the cooked asparagus using tongs and drop into a bowl of ice water. Once cold, drain well and untie.

3. Return the water to the boil and add the lasagna noodles. Cook until al dente, then drain and rinse under cold water. Drain and pat dry.

4. Trim the asparagus spears into 4-inch (10-cm) lengths. Slice the remaining stems into thin diagonal slices and reserve. Cut the lasagna noodles in half lengthwise.

5. Butter a large baking dish. Place the noodles against sides of baking dish with a third of each noodle on the bottom of the dish and the other two-thirds overhanging one side of the dish. Divide the reserved asparagus between the noodles. Sprinkle with half grated Gruyère. Fold the noodle back over this and top the next noodle third with 6 of the 4-inch (10-cm) asparagus spears and more Gruyère. Finally, fold the remaining piece of the noodle back over this. You will have an S shape, with sliced asparagus stems and cheese in the bottom of the S and spears and cheese in the top half.

6. Preheat the oven to 425°F (220°C).

7. Whisk the cream until soft peaks form. Whisk a couple of spoonfuls into the reserved sauce, and then fold in the remaining. Place a large spoonful of this mixture on each individual lasagna, spreading to the edges. Sprinkle with Parmesan cheese, then bake for 20 minutes or until hot and golden brown.
Serves 4 as main course or 8 as appetizer
SHARE