Lamb-Stuffed Vidalia Onions
Early Summer 2014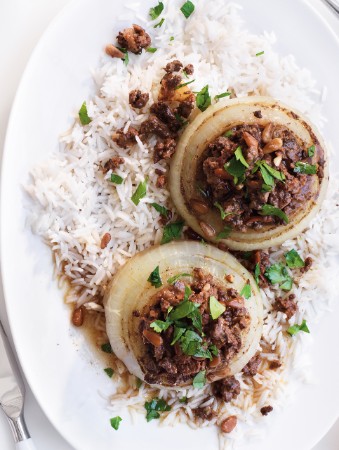 Lamb-Stuffed Vidalia Onions
Early Summer 2014
BY: Christopher St. Onge
A great first course served individually or else asa main course with two per person on a bed of rice, these stuffed onions feature some favourite flavours from a recent trip to the Middle East. Urfa biber is a spice of flaked and fermented chilies. Its moderate spiciness and raisiny flavour add complexity to the lamb mixture. Both it and the pomegranate molasses are available at Middle Eastern grocers, however pomegranate molasses is easy to make at home. See TIP at the end of the recipe.
8 medium Vidalia onions
2 tbsp (30 mL) olive oil
4 cloves garlic, finely chopped
1 tbsp (15 mL) ground cinnamon
2 tsp (10 mL) ground cumin
1 tsp (5 mL) dried mint
1 tsp (5 mL) urfa biber (optional)
1 lb (500 g) ground lamb
Salt and freshly ground pepper
2 tbsp (30 mL) Pomegranate Molasses
2 tbsp (30 mL) lemon juice, divided
¼ cup (60 mL) toasted pine nuts
1 cup (250 mL) water, divided
2 Medjool dates, pitted
¼ cup (60 mL) tahini
Chopped parsley to garnish
1 Trim root ends of onions just enough to allow them to sit upright without rolling. Trim stem end to within ½ inch (1 cm) of widest part of onion. Peel onions. Using a paring knife and melon-baller, scoop out interior, leaving 3 outer layers of onion. Roughly chop scooped onion; measure 2 cups (500 mL) and reserve. Discard remaining scooped onion or keep for another use.

2 Heat oil in a large skillet over medium-low heat. Fry chopped onion, stirring frequently, for 18 to 20 minutes or until deeply caramelized. Stir in garlic and cook for an additional minute. Add cinnamon, cumin, mint and urfa biber (if using) to pan; cook until fragrant, about 1 minute. Crumble lamb into pan, increase heat to medium-high and cook, breaking lamb apart with a fork until no longer pink. Stir in ½ tsp (2 mL) salt and season with pepper to taste. Remove from heat; stir in pomegranate molasses, 1 tbsp (15 mL) lemon juice and the pine nuts.

3 Preheat oven to 400°F (200°C).

4 Divide lamb mixture between onion cavities. Place in a large shallow roasting pan; pour ½ cup (125 mL) water into bottom of pan; cover tightly with foil. Cook on centre rack for 45 minutes.

5 While onions are cooking, combine remaining 1 tbsp (15 mL) lemon juice, remaining ½ cup (125 mL) water and dates in a blender; purée. Scrape tahini into blender and pulse to combine (if mixture thickens further upon sitting, thin with additional water until desired consistency is reached).

6 Remove foil from onions and baste liberally with pan juices. Return to oven for 10 additional minutes. Allow to cool for 15 minutes before drizzling with tahini mixture and parsley. Serve warm.

TIP To make Pomegranate Molasses, combine 2 cups (500 mL) pomegranate juice, ¼ cup (60 mL) sugar and 1 tbsp (15 mL) freshly squeezed lemon juice in a small saucepan over medium heat. Stir to dissolve sugar and bring to a boil. Reduce heat to low and simmer for 30 to 35 minutes or until thick and syrupy and reduced to ½ cup (125 mL). Pomegranate Molasses will keep, tightly covered and refrigerated, for several months.
SHARE