Lamb on a Bed of Herbs
Holiday 2018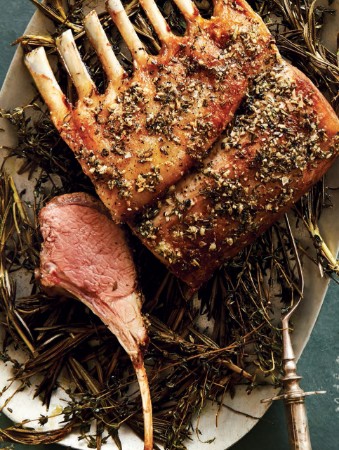 Lamb on a Bed of Herbs
Holiday 2018
BY: Christopher St. Onge
This simple recipe uses a bundle of evergreen herbs you're already familiar with—thyme and rosemary. Those of you with green thumbs likely know that neither plant sheds its leaves and that both remain green overwintered indoors. Roasting the lamb racks on a bed of herbs fills the house with incredible smells, and the crisped remnants of the herbs help flavour the pan sauce too. Generous bunch rosemary Generous bunch thyme
½ tsp (2 mL) fennel seed, lightly crushed
2 cloves garlic, finely chopped
4 tbsp (60 mL) olive oil, divided
Salt and freshly ground black pepper
2 racks lamb chops, 8 ribs each

SAUCE
½ cup (125 mL) red wine
½ cup (125 mL) beef or lamb stock
2 tsp (10 mL) redcurrant jelly
1 tbsp (15 mL) butter
Salt and freshly ground black pepper
1. Preheat oven to 400°F (200°C).

2. Chop enough rosemary to measure 2 tsp (10 mL) and enough thyme to measure 1 tbsp (15 mL); set remainder of herb bunches aside. Add chopped herbs to a small bowl along with the fennel seed, garlic and 3 tbsp (45 mL) olive oil; season with salt and pepper.

3. Heat remaining 1 tbsp (15 mL) oil in a large ovenproof skillet over high heat; season lamb and brown on all sides, about 6 minutes total. Remove skillet from heat and lamb to a board, fat-side up; brush lamb with herb mixture.

4. Arrange remaining herb sprigs in the hot pan, evenly distributing. Lay racks over herbs doing your best to avoid crowding lamb. Roast for 20 minutes for medium-rare. Remove lamb to a board; tent with foil. Arrange cooked herbs on a platter, leaving behind any small bits of crisped needles or thyme leaves that remain in the pan.

5. Return skillet to stovetop over medium heat; pour red wine and stock into pan, bring to a boil and reduce by two-thirds. Whisk in jelly. Remove from heat, add butter and stir until melted. Season with salt and pepper.

6. Serve lamb on bed of herbs with sauce alongside.
SHARE