Lamb and Apricots Kebabs
Summer 2006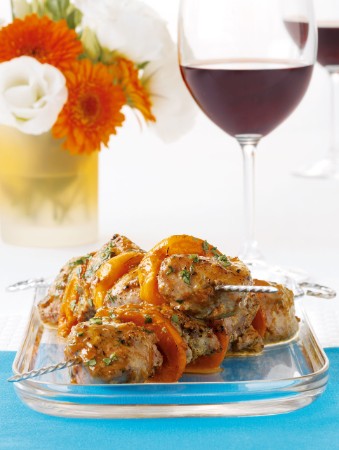 Lamb and Apricots Kebabs
Summer 2006
BY: Jennifer McLagan
Apricots match well with lamb and the Indian spicing gives these kebabs a touch of the exotic.
2 lb (1 kg) boneless lamb leg or loin
2 cloves garlic, peeled and halved
6 slices peeled fresh ginger
2 tsp (10 mL) coriander seed
1 tsp (5 mL) cumin seed
1 tsp (5 mL) mustard seed
¼ cup (50 mL) olive oil
1 tbsp (15 mL) vegetable oil
1 tsp (5 mL) ground cumin
½ tsp (2 mL) ground ginger
½ tsp (2 mL) ground coriander
2 tbsp (25 mL) freshly squeezed lemon juice
2 tbsp (25 mL) apricot jam
¼ cup (50 mL) apricot nectar
Kosher salt and freshly ground pepper
9 ripe but firm apricots
2 tbsp (25 mL) chopped fresh coriander
1. Cut the lamb into 1½-inch (4-cm) pieces and place in a bowl. Place the garlic, ginger, coriander, cumin and mustard seed in a mortar. Using the pestle, pound the mixture into a paste. Mix the paste with the olive oil and then pour over the lamb. Stir to coat the lamb with the paste, then cover and refrigerate for least 1 or up to 6 hours.

2. While the lamb is marinating, heat the vegetable oil in a small saucepan over medium heat. Add the ground cumin, ginger and coriander and cook, stirring, until fragrant. Add the lemon juice, jam and nectar and stir until smooth. Cook over low heat until the glaze is slightly thickened, season with salt and pepper and set aside. You should have about 1/3 cup (75 mL).

3. Preheat the grill.

4. Cut the apricots in half and remove pits. Thread lamb pieces and apricot halves onto skewers, beginning and ending with lamb. Season the kebabs with salt and pepper and grill the lamb for 10 to 12 minutes or until cooked as desired. Brush the skewers with the glaze as they cook.

5. Serve the skewers sprinkled with fresh coriander and any extra glaze.
SHARE