Lamb Two Ways
Temps des Fêtes 2007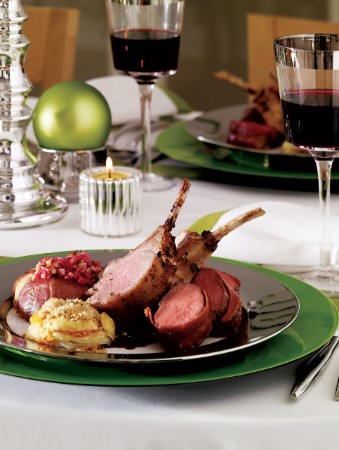 Lamb Two Ways
Temps des Fêtes 2007
BY: Lucy Waverman
Boning 2 racks and leaving 2 whole makes a superb presentation as well as a sensational dish. Buy 4 racks and ask the butcher to bone out 2 of them giving you the bones and the meat separately.
4 racks of lamb

Sauce
½ cup (125 mL) red wine
3 cups (750 mL) chicken or beef stock
¼ cup (50 mL) port
Salt and freshly ground pepper

Marinade
2 tbsp (25 mL) Dijon mustard
2 tbsp 25 mL) grainy mustard
2 tsp (10 mL) chopped garlic
3 tbsp (45 mL) chopped mint
2 tbsp (25 mL) soy sauce
2 tbsp (45 mL) olive oil
Salt to taste2 tsp (10 mL) coarse ground pepper

4 to 6 slices prosciutto
2 tbsp (25mL) vegetable oil
1. Trim 2 lamb racks, removing most of the fat. Bone out the eye of the meat in the other 2 racks reserving the bones and discarding any fat.

2. Place bones in skillet on high heat and brown well. Pour over wine and bring to boil scraping any pieces from base of skillet. Add stock and bring to boil again. Reduce heat to medium and simmer sauce for 40 minutes to 1 hour or until reduced and well flavoured. Strain sauce into a small saucepan and add port. Simmer another 5 to 8 minutes, season well with salt and pepper and reserve. Reheat sauce when needed.

3. Whisk together mustards, garlic, mint, soy sauce, olive oil and salt and pepper. Rub mixture over lamb racks and the bones, and spread on boned lamb.

4. Preheat oven to 400°F (200°C).

5. Lay 2 slices of prosciutto on counter. Place boned lamb on prosciutto and roll up like a jelly roll. Repeat with remaining prosciutto and boned lamb.

6. Heat oil in a skillet over high heat. Fry rolls until prosciutto is crisp, about 2 minutes. Reserve.

7. Place lamb racks on a rack in a roasting pan or ovenproof skillet and bake for 25 to 40 minutes or until pink. Add prosciutto-wrapped lamb to roasting pan for last 10 minutes.

8. Remove from oven and let lamb rack and meat rest on carving board.

9. Divide boned lamb into 6 or 9 pieces each. Divide lamb racks into 2 chops per person. Serve 2 chops and 2 or 3 slices lamb per person. There will be several chops leftover for seconds. Drizzle sauce around.
SHARE