Lamb Triangoli with Brown Butter & Parmesan
Holiday 2016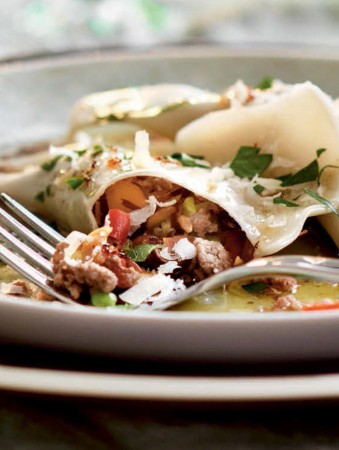 Lamb Triangoli with Brown Butter & Parmesan
Holiday 2016
BY: Marilyn Bentz-Crowley
Browned butter adds nutty flavour and is about as simple as a sauce can get, having only one ingredient! This recipe makes numerous triangoli (and enough brown butter for four to six appetizer portions), however they freeze well for months and are very versatile as either an appetizer or main course. Or try frying the triangles in hot oil for crispy nibbles to serve with drinks (see TIP).
1 tbsp (15 mL) olive oil
1 large leek, cleaned and thinly sliced (white and light green portion only)
½ cup (125 mL) finely diced sweet red pepper or shredded carrot
1 large clove garlic, minced
¾ tsp (4 mL) freshly ground black pepper
1 tsp (5 mL) salt
½ cup (125 mL) frozen petit pois peas
1 lb (500 g) lean ground lamb or pork
½ cup (125 mL) toasted sliced or slivered almonds
½ cup (125 mL) diced dried apricots
2 pkgs (each 450 g) frozen egg roll wrappers, defrosted
1 egg white, lightly beaten
⅓ cup (80 mL) unsalted butter
¼ cup (60 mL) grated Parmesan
1 to 2 tbsp (15 to 30 mL) finely chopped parsley or green onion
1 Heat oil in a medium frying pan over medium heat until hot. Add leek, red pepper and garlic; sauté 5 minutes or until softened. Stir in black pepper and salt; turn into a metal bowl. Stir in frozen peas; set mixture aside.

2 Place hot pan back on burner; increase heat to medium-high. Using your hands, finely crumble lamb into hot pan; use a spatula to further break up lamb into small pieces. Cook, stirring frequently until meat loses its pink colour; remove from heat. Drain by turning into a sieve over a small metal bowl; place bowl and liquid in freezer for a few minutes or until fat congeals. Remove and discard fat.
3 Add lamb, pan juices, almonds and apricots to vegetable mixture. Stir until well combined.

4 Place about 2 tbsp (30 mL) of mixture in centre of wrapper. Moisten wrapper edges well with egg using a small brush or index finger; fold 1 point over to the opposite point, forming a triangle. Beginning at matched point, firmly press edges together working back towards the 2 points, eliminating as much air as possible from the pocket. Firmly press edges together again.

5 Place triangoli as assembled slightly apart on large tray lined with wax paper, adding additional sheets of waxed paper as needed. Loosely cover with plastic wrap and refrigerate until needed. (To freeze, place in freezer uncovered for 1 to 2 hours. Then transfer to heavy plastic bags, and seal airtight.)

6 Place butter in a small stainless-steel saucepan over medium-low heat. Let butter melt and start to bubble. Then stirring often, allow it to continue to bubble, stirring frequently for 3 to 5 minutes or until it develops golden brown flecks. Pour into a heatproof dish to stop browning; set aside in a warm place.

7 Bring salted water to a boil in a large rondeau saucepan or pasta pot. Meanwhile check seal on triangoli; use wetted fingers to firmly press closed any gaps in edges. Drop several triangoli into the water; gently boil for 4 to 5 minutes or until pasta is cooked. If cooking from frozen, add a couple of minutes to the cooking time. Drain; repeat in batches as needed.

8 Arrange 2 to 3 triangoli on each warmed plate; drizzle with a bit of browned butter. Scatter with grated Parmesan and parsley. Serve immediately, passing a black pepper grinder overtop.
TIP Deep-fry triangoli as a finger food (no sauce). Heat 3 inches (8 cm) of oil in a wide pan over medium-high heat until oil measures 350° to 375°F (180° to 190°C) on a thermometer. Using a slotted spoon, lower 3 to 4 triangoli into hot oil, turning after 1 to 2 minutes, or until golden brown and crisp. Drain on paper towel; serve right away. Frozen triangoli can be cooked right from the freezer.
Makes approximately 36 triangoli
SHARE