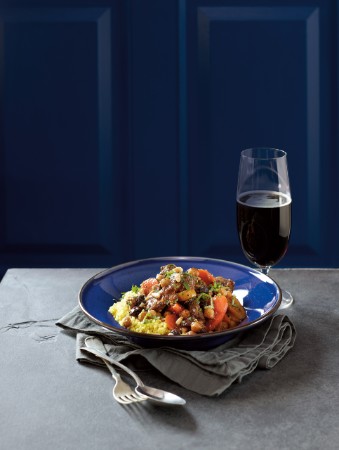 BY: Nicole Young
Jumbo Flames have a great, full-bodied flavour that works beautifully in rich stews. They are golden raisins that are flame-dried so that they retain a characteristic reddish hue.

In Morocco, tagines, or stews, are cooked in a pottery dish called a tagine slaoui, which has a conical lid that helps capture the steam to produce moist stews in rich sauces. Using a large Dutch oven produces similar results. Serve with steamed couscous or warm flatbread.
3 lbs (1.5 kg) boneless lamb shoulder
2 tbsp (30 mL) olive oil
2 onions, sliced
2 carrots, sliced
4 cloves of garlic, minced
1 tsp (5 mL) ground cumin
½ tsp (2 mL) all-spice
½ tsp (2 mL) ground cinnamon
1 tbsp (15 mL) tomato paste
½ cup (125 mL) dry white wine
1 cup (250 mL) chicken stock
1 bay leaf
½ tsp (2 mL) each, salt and freshly cracked pepper
½ cup (125 mL) Jumbo Flame raisins
½ cup (125 mL) sliced, dried apricots
1 cup (250 mL) canned, drained and rinsed chickpeas
1 tsp (5 mL) orange zest
2 tbsp (30 mL) freshly squeezed orange juice
¼ cup (60 mL) pine nuts
¼ cup (60 mL) freshly chopped parsley
1 tbsp (15 mL) freshly chopped mint
1 Trim lamb and cut into 1-inch (2.5-cm) cubes. In a large Dutch oven, heat oil over medium-high heat. Brown lamb in batches. Transfer to plate.

2 Heat oven to 350°F (180°C).

3 Drain any fat from pan and reduce heat to medium. Cook onions, carrots, garlic, cumin, all-spice and cinnamon, stirring until onions are softened, about 5 minutes. Stir in tomato paste for 30 seconds. Add wine, scraping any brown bits from the bottom of the pan, and cook, stirring for 1 minute. Add chicken stock, bay leaf, salt and pepper. Return lamb and any accumulated juices to pan; bring to a boil.

4 Cover pan and put it in the centre of oven for 1 hour.

5 Stir in raisins, apricots, chickpeas, orange zest and juice; cover and cook until lamb is tender and sauce is thickened, about 30 minutes. Discard bay leaf.

6 Meanwhile, in a small skillet, toast pine nuts over medium heat, shaking often, until golden, about 3 minutes. Sprinkle over stew with parsley and mint and serve.
SHARE