Lamb Tagine with Apples
Autumn 2010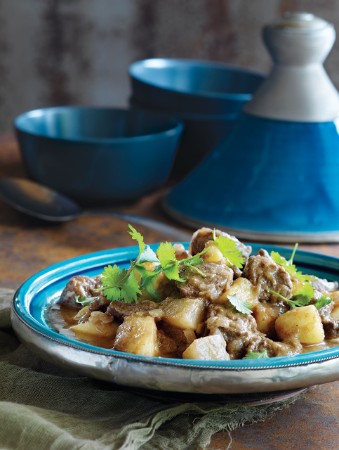 Lamb Tagine with Apples
Autumn 2010
BY: Lucy Waverman
Traditionally tagines (Moroccan braises) are made with water but you can substitute homemade or low-sodium chicken stock for a richer flavour. Although we used Galas because we wanted a certain sweetness in the sauce, you could use Jonagold, Cortland or Mutsu.
2 tsp (10 mL) ground cumin
2 tsp (10 mL) ground ginger
2 tsp (10 mL) ground coriander
1 tsp (5 mL) paprika
½ tsp (2 mL) cayenne
2 tbsp (25 mL) olive oil
2 lbs (1 kg) lamb shoulder, cut into 2-inch (5-cm) chunks
Salt and freshly ground pepper
2 cups (500 mL) sliced onions
4 cups (1 L) water
2 small white turnips, peeled and cut into 1-inch (2.5-cm) chunks, about 3 cups (750 mL)
2 tbsp (25 mL) butter
3 Gala apples, peeled and cut into 1-inch (2.5-cm) chunks, about 3 cups (750 mL)
¼ tsp (1 mL) cinnamon
1 tbsp (15 mL) lemon juice
¼ cup (50 mL) coriander leaves
1. Preheat oven to 325°F (160°C).

2. Combine cumin, ginger, coriander, paprika and cayenne. Reserve.

3. Heat oil in a Dutch oven over medium-high heat. Season lamb with salt and pepper and, working in batches, add to oil and brown all sides.

4. Drain oil from Dutch oven and return lamb. Sprinkle lamb with 1 tbsp (15 mL) spice mixture and toss to coat. Add onions, water and remaining spice mixture and bring to boil.

5. Cover Dutch oven, place in oven and bake for 1 hour. Add turnips and bake another 30 minutes or until lamb and turnips are almost fully cooked.

6. While lamb is baking, add butter to a skillet over medium heat. Add apples and sauté for 8 minutes or until lightly browned and softened slightly. Add cinnamon and sauté for another minute.

7. Add apples to Dutch oven with lamb and bake another 15 minutes or until lamb, turnips and apples are all tender. Remove meat, apples and turnips and reduce sauce until slightly thickened, about 8 minutes. Return meat, apples and turnips to sauce. Stir in lemon juice and adjust seasoning to taste. Sprinkle with coriander.


SHARE