Lamb Steaks with Red Pepper Confit
Autumn 2010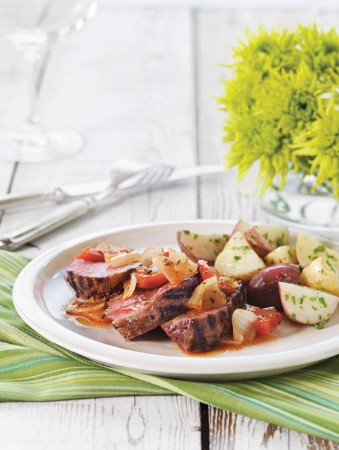 Lamb Steaks with Red Pepper Confit
Autumn 2010
BY: Lucy Waverman
A different approach to boneless lamb legs. By cutting the lamb into steaks you can cook the steaks to each person's preference. When they are sliced they are very attractive on the plate.
Sorrel-Scented Potatoes

Today we can get all different kinds of potatoes. At farmer's markets, many are sold grown from heirloom varieties and finally we can see some of the old tasty types back on the menu. Even the supermarket carries a few different kinds. This dish calls for purple, red and yellow potatoes if you can get them. Otherwise just use red. If you cannot find sorrel, which has a lemony flavour, use ¼ cup (50 mL)chopped fresh mint instead.

2 lbs (1 kg) potatoes,
including purple,
red and yellow
¼ cup (50 mL) butter,
room temperature
Salt and freshly ground
pepper
¼ cup (50 mL) chopped sorrel
1. Cut potatoes into even-sized chunks. Place in pot of cold salted water. Bring to boil over high heat and cook for 10 minutes or until tender.

2. Drain and return to burner over low heat, shaking pot to dry potatoes. Add butter. Stir until melted, season with salt and pepper and sprinkle with sorrel.
SHARE