Lamb Sliders with Mint & Caper Mayonnaise
Holiday 2013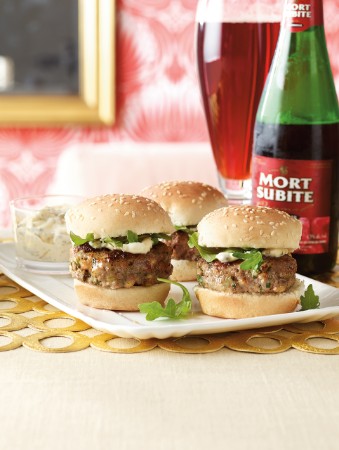 Lamb Sliders with Mint & Caper Mayonnaise
Holiday 2013
BY: Tonia Wilson-Vuksanovic
This lamb version of the slider elevates it to a true gourmet experience, a burger with class.
1 lb (500 g) ground lamb
1/3 cup (80 mL) green onions, finely chopped
½ tsp (2 mL) ground cumin
½ tsp (2 mL) salt, or to taste
¼ tsp (1 mL) ground pepper, or to taste
1/3 cup (80 mL), about 2 oz (60 g) feta cheese, finely diced'
1 tsp (5 mL) Worcestershire sauce
1 large egg
3 tbsp (45 mL) bread crumbs
½ cup (125 mL) mayonnaise
2 tsp (10 mL) capers, finely chopped
2 tsp (10 mL) fresh mint, finely chopped
½ tsp (2 mL) Dijon mustard
8 slider buns
½ cup (125 mL) arugula
1 In a large bowl, gently mix together lamb, green onions, cumin, salt, pepper, feta, Worcestershire sauce, egg and bread crumbs.

2 Divide mixture into 8 equal portions. With wet hands, form into 8 patties, making a ¼-inch (5-mm) indent in the middle of each so that it cooks evenly.

3 Heat an oiled grill to high and cook burgers for 5 to 7 minutes on each side or until cooked through.

4 Meanwhile, make mayonnaise by stirring together mayonnaise, capers, mint and mustard.

5 Place cooked burgers on slider buns and top with mayonnaise and arugula.
SHARE