Lamb Shepherd's Pie with Cheddar-Mashed Potatoes
Holiday 2012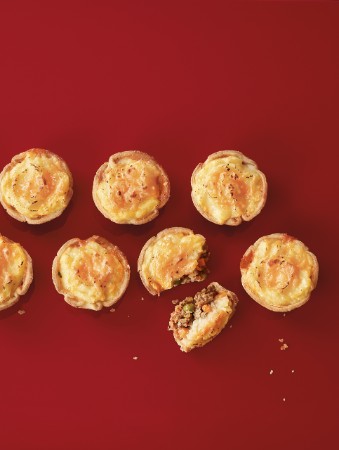 Lamb Shepherd's Pie with Cheddar-Mashed Potatoes
Holiday 2012
BY: Tonia Wilson-Vuksanovic
When using store-bought pie shells, follow package's instructions. If pastry breaks when placing in muffin tin just form it back together with fingertips so that there are no cracks. Let tarts cool slightly before trying to remove from muffin tin. Greasing the tin will also help in releasing the pies.
1 tbsp (15 mL) olive oil
1 lb (500 g) ground lamb
1 cup (250 mL) onion, finely chopped
1 cup (250 mL) carrot, peeled and finely chopped
2 tsp (10 mL) fresh thyme, finely chopped
2 tbsp (30 mL) tomato paste
2 tbsp (30 mL) all-purpose flour
2 tsp (10 mL) Worcestershire sauce
1/3 cup (80 mL) milk (for meat mixture)
1½ cups (375 mL) water
½ cup (125 mL) frozen peas
Salt and freshly ground pepper
3 cups (750 mL) Russet or Yukon Gold potatoes, peeled and chopped
½ cup (125 mL) milk (for potatoes), warmed
1 tbsp (15 mL) unsalted butter
½ cup (125 mL) cheddar cheese, grated
3 store-bought pie shells, each 9 inches (23 cm)
1 Heat oil in a large saucepan over medium-high heat, add lamb and brown for 10 minutes while breaking meat up with a fork.

2 Remove meat and set aside, Add onion and carrot to pan, sauté over medium heat for 10 minutes. Place meat back in pan along with thyme, tomato paste, flour and Worcestershire sauce. Stir until flour is fully combined, add milk and water and bring to the boil. Reduce heat to low and let simmer for 20 minutes until thickened and meat and vegetables are tender.

3 Stir in peas and season well with salt and pepper. Set mixture aside to cool.

4 Preheat oven to 400°F (200°C).

5 In a medium pot filled with water, boil potatoes over high heat until tender. Strain and return to pot with warmed milk, butter and half the cheese. Mash well and season with salt, set aside.

6 Using a large cookie cutter or plate, cut 12 circles from the pie shells. Circles should be 4 inches (10 cm) wide. Cut them close together to ensure you get 12. Place circles in each of 12 holes of a muffin tin, using fingertips to shape them into the holes. The edge of the pastry should come up to the edge of the hole.

7 Divide the lamb mixture evenly amongst each tart, top each with mashed potatoes (there may be some left over) and sprinkle with remaining cheese.

8 Bake in oven for 25 minutes until pastry is cooked through and topping is golden.
SHARE