Lamb Shank Tajine with Prunes, Cinnamon and Sesame Seeds
Autumn 2019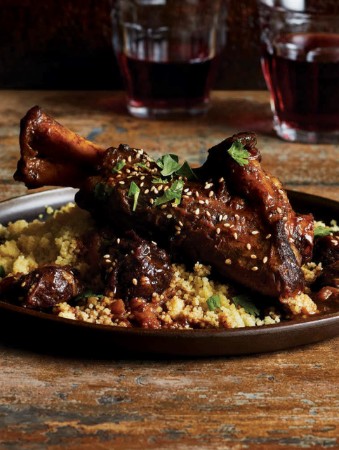 Lamb Shank Tajine with Prunes, Cinnamon and Sesame Seeds
Autumn 2019
BY: Eric Vellend
In this classic Moroccan dish, lamb is braised to maximum succulence with plump prunes in a broth spiced with cinnamon, ginger and saffron. Serve it with plain steamed couscous to soak up the rich sauce. To toast sesame seeds, cook them in a small skillet over medium heat, stirring often, until browned, 4 to 5 minutes.
4 lamb shanks, 10 to 12 oz (285 to 340 g) each
Salt and freshly ground pepper to taste
2 tbsp (30 mL) vegetable oil
2 tbsp (30 mL) unsalted butter
1 large onion, finely chopped
2 tsp (10 mL) cinnamon
1 tsp (5 mL) ground ginger
Large pinch saffron soaked in ¼ cup (60 mL) hot water
3 cups (750 mL) unsalted chicken stock
2 tbsp (30 mL) honey
24 pitted prunes
Salt, if needed
Toasted sesame seeds and cilantro leaves to garnish
1 Preheat oven to 325°F (160°C).
2 Pat lamb dry with paper towel. Season generously with salt and pepper. In a large frying pan, heat oil over a medium-high heat. Add lamb and cook, turning occasionally, until nicely browned, 8 to 10 minutes. Transfer lamb to a deep baking dish that will fit it snuggly.
3 Drain off fat from pan and lower heat to medium. Add butter then onion and cook, stirring occasionally, for 5 minutes. Stir in cinnamon and ginger. Cook 30 seconds. Add saffron tea and chicken stock. Raise heat to high. When it comes to a boil, pour over lamb. Cover dish tightly with foil and bake on middle rack for 1 hour. Flip lamb and bake another 30 minutes. Remove dish from oven. Place honey in a small bowl. Ladle in some braising liquid and whisk to dissolve honey. Pour over lamb and sprinkle with prunes. Cover and bake until lamb is fork-tender, another 30 minutes.
4 Reduce oven to 200°F (100°C).
5 Carefully transfer lamb to another baking dish. Carefully strain braising liquid into a medium saucepan. Transfer prunes and onions to dish with lamb. Cover lamb with foil and place in oven to keep warm. Place liquid over a high heat. Skim and discard fat. When mixture comes to a boil, reduce heat to maintain vigorous simmer. Cook until reduced to 1 ½ cups (375 mL), 15 to 20 minutes. Season with salt, if necessary. Pour over lamb. Cover and return to oven to keep warm until ready to serve, up to 1 hour. Sprinkle with sesame seeds and cilantro before serving.
SHARE