Lamb Meatballs with Roasted Peppers & Olives
Holiday 2013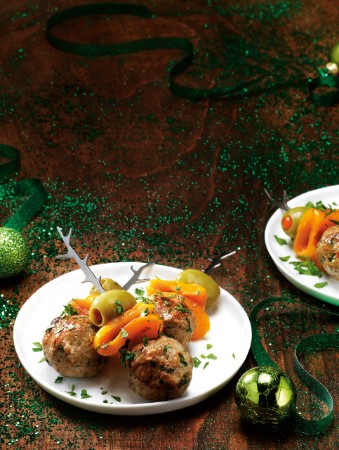 Lamb Meatballs with Roasted Peppers & Olives
Holiday 2013
BY: Christopher St. Onge
Preserved anchovies impart a wallop of umami-rich flavour to these striking lamb skewers. If made ahead, the assembled skewers may be refrigerated for a couple of days, but it's best to return them to room temperature for one hour before they are warmed through in the oven.
2 large orange or yellow peppers
½ tsp (2 mL) sherry vinegar or red wine vinegar
¾ tsp (4 mL) salt, divided
1¼ lbs (625 g) ground lamb
2 tbsp (30 mL) water
1 tbsp (15 mL) finely grated lemon zest
5 cloves garlic, finely chopped
3 anchovy fillets, finely chopped
¼ cup (60 mL) finely chopped parsley, plus extra for garnishing
½ tsp (2 mL) chili flakes
¼ tsp (1 mL) freshly ground black pepper
2 tbsp (30 mL) olive oil
20 large pimento-studded green olives
20 ovenproof skewers, each 4 inches (10 cm)
1 Broil peppers on top rack of oven, turning from time to time, until skin is evenly blistered and blackened, about 10 minutes total. Remove to a large bowl, cover and allow to cool for 20 minutes.

2 Peel peppers; remove stems and seeds. Slice each pepper in half, and each half into 5 even strips. Return to bowl, sprinkle with vinegar and ¼ tsp (1 mL) salt; toss to evenly coat and set aside.

3 In a large mixing bowl, combine lamb with 2 tbsp (30 mL) water; mix well. Add lemon zest, garlic, anchovy, ¼ cup (60 mL) parsley, chili flakes, remaining ½ tsp (2 mL) salt and pepper. Using your hands, work seasoning throughout. Form into twenty 1-inch (2.5-cm) balls.

4 Preheat oven to 375°F (190°C).

5 Heat 1 tbsp (15 mL) olive oil in a large nonstick skillet over medium heat. Brown meatballs in batches, refreshing oil between batches if necessary. Remove to a cookie sheet; bake in oven for 8 minutes.

6 While meatballs are in oven, place 1 olive on each skewer. Working with 1 at a time, fold each pepper strip into an 's' shape and thread 1 on each skewer.

7 Once the cooked meatballs are cool enough to handle, slip 1 on end of each skewer, snug against pepper strip. Place assembled skewers on cookie sheet and return to oven to heat through, about 4 minutes. Arrange on serving platter and sprinkle with chopped parsley.
SHARE