Lamb Meatballs with Moroccan Flavours
Temps des Fêtes 2010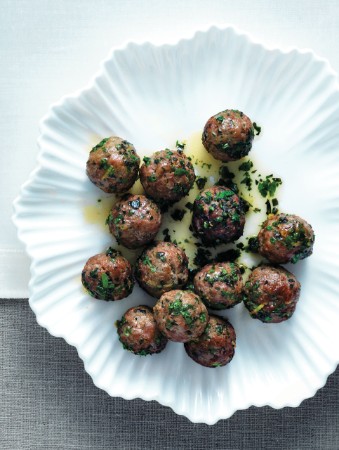 Lamb Meatballs with Moroccan Flavours
Temps des Fêtes 2010
BY: Marilyn Bentz-Crowley
These neat little meatballs have a robust flavour. While certainly not Moroccan, ground pork can be used if lamb is not a favourite. (If making these for a cocktail party, I suggest you double the recipe because each meatball is indeed just one bite.)
11/2 tsp (7 mL) olive oil
1/4 cup (50 mL) finely minced red onion
1 large garlic clove, minced
1/2 tsp (2 mL) ground cumin
1/2 tsp (2 mL) paprika
1/2 tsp (2 mL) salt
⅛ tsp (0.5 mL) cayenne
2 tbsp (25 mL) finely chopped fresh parsley, divided
2 tbsp (25 mL) finely chopped fresh mint, divided
1/2 lemon
8 oz (250 g) ground lamb
2 tbsp (25 mL) fresh bread crumbs, preferably from French or Italian bread
1 tbsp (15 mL) water
1 Heat oil in a very small frying pan over medium heat until hot. Add onion; cook 3 minutes. Stir in garlic; cook for another minute or 2. Remove from heat; stir in cumin, paprika, salt and cayenne. Cool.

2 Measure out a generous 1 tbsp (15 mL) each of parsley and mint; stir together. Finely zest lemon; add 1/2 tsp (2 mL) to parsley mixture; cover and set aside for garnish.

3 Crumble meat into a large mixing bowl. Add onion mixture, 11/2_ tsp (7 mL) lemon juice, bread crumbs, water, remaining parsley and mint; using hands, work all ingredients thoroughly together.

4 Form mixture into 1-inch (2.5-cm) balls; there should be about 20. Lay on greased broiling pan or baking sheet lined with foil and coated with nonstick spray. (If making ahead, cover with plastic wrap and refrigerate for up to half a day.)

5 Preheat broiler until very hot.

6 Broil meatballs about 2 inches (5 cm) from broiling unit for 2 minutes. Then shake the pan so balls roll about. Broil another 2 minutes and shake the pan. Broil another minute. Meatballs are done when lightly browned with an internal temperature of 145°F (63°C) on an instant-read thermometer.

7 Turn meatballs into a medium mixing bowl; add parsley, mint and lemon zest mixture. Toss until coated. Serve in a very warm serving dish with toothpicks for guests to pick up meatballs.


SHARE