Lamb Loins
Temps des Fêtes 2010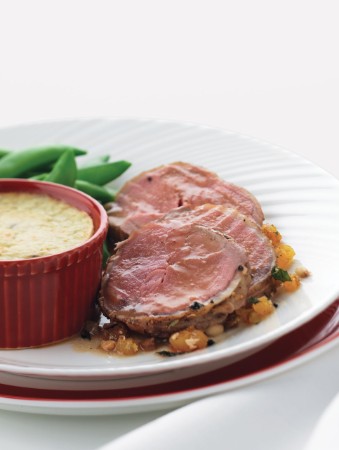 Lamb Loins
Temps des Fêtes 2010
BY: Lucy Waverman & James Chatto
This dish combines lamb with a touch of apricots and is served with a slightly richer fennel custard that allows a good synergy between the lamb and the sparkling rosé. Lean lamb loins are available at butcher shops and sometimes at the supermarket. They vary in thickness, so roasting time will vary too. Serve some sugar snap peas on the side, if desired.
1/2 cup (125 mL) chopped dried apricots, soaked first in hot water to soften
2 tsp (10 mL) cracked fennel seeds
1/4 cup (50 mL) pine nuts
3 tbsp (45 mL) chopped mint
3 tbsp (45 mL) fresh bread crumbs
1 tbsp (15 mL) olive oil
2 lamb loins
Salt and freshly ground pepper
2 tbsp (25 mL) butter
11/2 cups (375 mL) homemade or low-sodium chicken stock
1 Preheat oven to 400°F (200°C).

2 Combine apricots, fennel seeds, pine nuts, mint and breadcrumbs in a bowl. Add oil and toss to coat. Set aside.

3 Season lamb with salt and pepper. Heat butter in a skillet over medium-high heat and sear each loin for about 2 minutes a side or until nicely browned all over.

4 Place loins in a metal baking dish and roast for 15 minutes. Sprinkle over apricot mixture and bake for another 5 to 10 minutes or until nuts are toasted and lamb is medium-rare.

5 Remove lamb, leaving any topping that has fallen off in dish. Transfer baking dish to stove and place over medium-high heat. Deglaze pan with chicken stock, bring to a boil and boil for 5 minutes or until sauce is reduced and flavourful. Carve loins and drizzle with sauce.


SHARE