Lamb Keema with Single Fry
Été 2012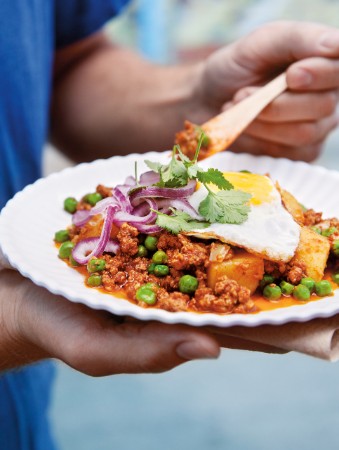 Lamb Keema with Single Fry
Été 2012
BY: Christopher St. Onge
While I've opted to omit the traditional bun in flavour of potato, this curry, potatoes and all, can certainly be served on soft rolls as a sandwich. Cook the eggs in an oiled pan over high heat to crisp the edges and underside.
½ red onion, peeled and thinly sliced
Salt
1 lb (500 g) ground lamb
½ cup (125 mL) yogurt
3 tbsp (45 mL) clarified butter (see TIP), or vegetable oil
2 green cardamom pods
3 whole cloves
1 cinnamon stick, 3 inches (8 cm) long
1 bay leaf
1 medium cooking onion, chopped
1 tbsp (15 mL) grated ginger
4 cloves garlic, minced
1 cup (250 mL) tomato purée
½ tsp (2 mL) cayenne
¼ tsp (1 mL) turmeric
2 tsp (10 mL) ground cumin
1 tbsp (15 mL) ground coriander
2 medium Yukon Gold potatoes, peeled, cut into 1-inch (2.5-cm) chunks
1 cup (250 mL) frozen peas
2 tsp (10 mL) garam masala
4 eggs, individually cooked, sunny-side up
Fresh cilantro leaves to garnish
1 In a small non-reactive bowl, sprinkle red onion with ¼ tsp (1 mL) salt. Set aside.

2 Add lamb and yogurt to a separate bowl. Stir to combine.

3 Heat clarified butter over medium heat in a large sauté pan. Add cardamom, cloves, cinnamon stick and bay leaf. Fry for 2 to 3 minutes, or until fragrant. Add chopped onion and cook, stirring often, for 8 to 10 minutes or until golden. Add lamb and, using a fork to break up, cook until lamb is no longer pink, about 5 minutes. Stir in ginger and garlic. Cook 1 minute longer.

4 Add tomato purée and 1¼ cups (300 mL) water. Bring to a boil. Stir in cayenne, turmeric, cumin, coriander and potatoes. Season with salt. Reduce heat to low, cover and simmer for 20 to 25 minutes or until potatoes are tender. Stir in peas and garam masala. Remove from heat.

5 Rinse red onions under cool water and squeeze to remove excess water. Divide keema between 4 shallow bowls or plates, top each with a fried egg, a tangle of the onions and a small handful of cilantro leaves.

Serves 4

TIP To make clarified butter, melt 1 stick butter in a small saucepan over low heat. Remove pan from heat and let stand for 5 minutes. Using a spoon, skim foam from the top and pour melted butter into a separate container, leaving the milk solids in the bottom of the pan. Clarified butter will keep indefinitely tightly covered and refrigerated.


SHARE