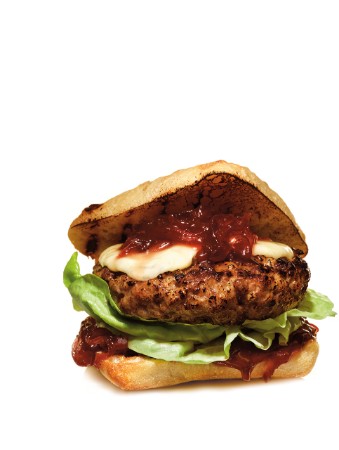 BY: Jennifer MacKenzie
When Chef Jay Nutt of Nuttshell Next Door Café in Lakefield, Ont., creates a dinner menu, lamb is most always a feature and his creations are raved about by his customers. For this burger he takes a sweet and savoury onion marmalade perfumed lightly with rosemary and just a hint of vanilla and nutty Gruyère to dress up a simple lamb patty. With the addition of the cheese and marmalade to the lamb, these smaller burgers are plenty rich, though you can make four larger ones for hearty appetites. Serve grill-seared cherry tomatoes and boiled new potatoes on the side.
1 egg
1 clove garlic, minced
1 tsp (5 mL) Dijon mustard
⅓ cup (80 mL) quick-cooking rolled oats
½ tsp (2 mL) salt
½ tsp (2 mL) freshly ground pepper
1½ lbs (750 g) ground lamb
3 oz (90 g) Gruyère cheese, thinly sliced
6 ciabatta or other crusty buns
Rosemary Vanilla Red Onion Marmalade (recipe follows)
Butter lettuce
1 Blend egg, garlic and mustard with a fork in a large bowl. Add oats, salt and pepper and stir to combine. Add lamb and gently blend into egg mixture with the fork (do not overwork).

2 Shape lamb mixture into 6 equal-sized patties making them about ½ inch (1 cm) thick. Make a divot in the centre of each patty with your thumb or the back of a spoon. Place patties on a baking sheet, cover and refrigerate for at least 15 minutes or for up to 8 hours.

3 Preheat barbecue grill to medium.

4 Place patties on oiled grill with the divot up. Grill for 4 minutes or until juices just start to bead on the surface. Flip over and
grill for about 3 minutes or until meat thermometer inserted horizontally into centre of burger registers 160°F (70°C) or to desired
doneness. Add cheese for the last minute of grilling. Meanwhile, toast cut sides of buns on grill.

5 Spoon a little marmalade on bottom half of buns and top with lettuce, then burger patties. Spoon more marmalade on patties and
replace bun tops.

ROSEMARY VANILLARED ONION MARMALADE

This sweet, savoury, fragrant marmalade gets even better after a few days in the fridge, so make it ahead, then let it warm to room temperature or reheat in a saucepan before serving. If you have vanilla bean, add a ½-inch (1-cm) piece with the rosemary instead of the extract, then remove before storing the marmalade.

1 large red onion
2 tbsp (30 mL) butter
⅔ cup (150 mL) granulated sugar
¼ tsp (1 mL) finely chopped fresh rosemary (approx.)
¼ tsp (1 mL) salt
¼ cup (60 mL) red wine vinegar
¼ tsp (1 mL) vanilla extract
Freshly ground pepper
1 Cut onion in half lengthwise. Cut each half lengthwise into thin slices, discarding root. You should have about 3 cups (750 mL).

2 Melt butter in a medium saucepan over medium heat. Add onions and sauté for 3 minutes or until starting to wilt. Stir in half the sugar. Reduce heat to medium-low, cover and cook, stirring occasionally, for about 20 minutes or until onions are very soft and caramelized.

3 Add remaining sugar, rosemary, salt and vinegar. Bring to a boil over medium heat. Reduce heat and simmer, stirring often, for about 15 minutes or until mixture is thick and jammy. Stir in vanilla and season to taste with pepper and more rosemary, if desired. Let cool. Transfer to a clean jar and refrigerate for up to 1 month.
Makes about 1 cup (250 mL)
SHARE