Lamb Burgers with Arugula Pesto
Temps des Fêtes 2012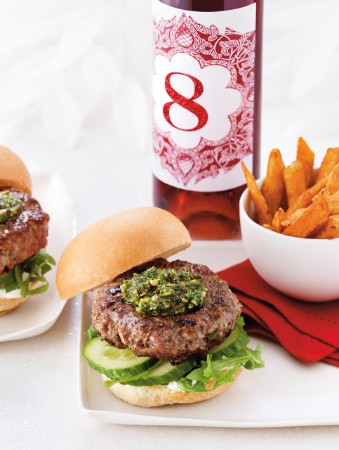 Lamb Burgers with Arugula Pesto
Temps des Fêtes 2012
BY: Marilyn Bentz-Crowley
This simple lamb burger was a long-time favourite at a bistro where I was the grill cook. The burgers are moist yet a bit crisp on the outside. Feel free to substitute your favourite purchased frozen lamb burgers, but don't skip the pesto and garnishes, as this is an outstanding combo!
LAMB
1½ lbs (750 g) lean ground lamb
1 large green onion, very thinly sliced
2 tbsp (30 mL) whipping cream
1 tsp (5 mL) salt
¼ tsp (1 mL) freshly ground black pepper

ARUGULA PESTO
2 cups (500 mL) lightly packed baby arugula
¼ cup (60 mL) shelled pistachios or toasted slivered almonds
1 large clove garlic
1 tbsp (15 mL) coarsely chopped fresh rosemary
1 tsp (5 mL) fine lemon zest
¼ tsp (1 mL) salt
¼ tsp (1 mL) dry mustard
1/3 cup (80 mL) olive oil to finish
1 pkg (454 g) sweet potato fries
1 tbsp (15 mL) vegetable oil
6 crusty burger buns
¾ to 1 cup (175 to 250 mL) thick plain Greek yogurt
2 cups (500 mL) lightly packed baby arugula
½ English cucumber, very thinly sliced on diagonal
1 Combine lamb with green onion, cream, salt and pepper. Using hands, mix well. Form mixture into 6 burgers, each about ½ inch (1 cm) thick. Cover and refrigerate until ready to cook, up to half a day.

2 To make pesto, combine all pesto ingredients in a blender. Pulse until almost smooth; transfer to a small dish. (If making ahead, place plastic wrap directly onto surface and refrigerate for up to a day.)

3 When ready to serve, heat sweet potato fries in the oven according to package directions (usually on a tray in a preheated 425°F [220°C] for 20 minutes or slightly longer for crispier fries).

4 To sauté burgers, heat oil in a large frying pan over medium heat until very hot. Add burgers; sauté 5 minutes per side or until browned and just cooked through.

5 Meanwhile, open buns; lightly toast, if desired. Generously spread top with yogurt. Cover bottom half with several arugula leaves, then with cucumber on top. When burgers are done, place over cucumbers, top with a dollop of pesto and serve with fries.
SHARE