Lamb & Halloumi Pizza
Winter 2012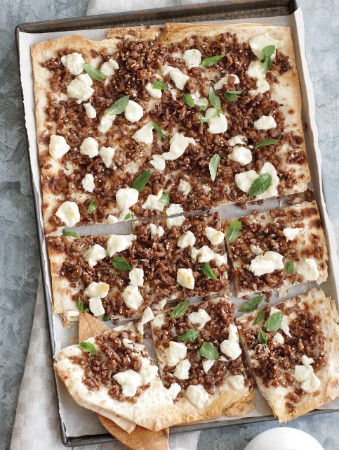 Lamb & Halloumi Pizza
Winter 2012
BY: Nicole Young
This recipe uses a simple Middle Eastern condiment called za'atar. The flavour of the condiment combines well with the savoury lamb, creamy halloumi and bright mint leaves. Sumac is available in most bulk and Middle Eastern markets. (You can also purchase za'atar already made.)
ZA'ATAR
1 tbsp (15 mL) minced fresh thyme
1 tbsp (15 mL) toasted sesame seeds
1 tsp (5 mL) ground sumac
½ tsp (2 mL) coarse salt
LAMB2 tbsp (30 mL) olive oil, divided½ lb (250 g) lean ground lamb1 soft lavash bread (or any rectangular flatbread)1 cup (250 mL) crumbled halloumi¼ cup (60 mL) fresh torn mint
1 Preheat oven to 450°F (230°C).

2 In a bowl, combine thyme, sesame seeds, sumac and salt until well blended. Set aside.

3 In a large skillet, heat 1 tbsp (15 mL) of the olive oil over medium-high heat. Brown lamb, breaking up with the back of a spoon, until no longer pink. Stir in za'atar.

4 Place lavash on a rimmed baking sheet. Spread lamb mixture evenly over lavash. Sprinkle with halloumi. Bake in the centre of the preheated oven until lavash starts to crisp and halloumi melts slightly, about 15 minutes.

5 Drizzle with remaining olive oil and top with fresh mint leaves.

SHARE