Lamb & Feta Cigars
Holiday 2008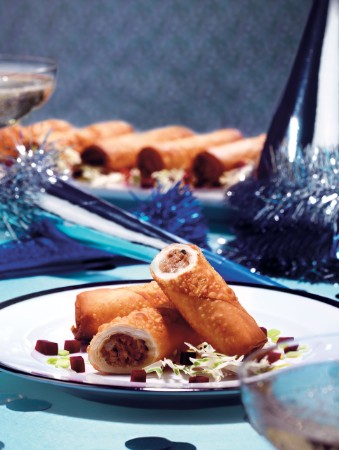 Lamb & Feta Cigars
Holiday 2008
BY: Tonia Wilson-Vuksanovic
These cigars make for a superb start to the evening as each bite is filled with exotic flavour. They are simple enough to make; roll them ahead of time and fry them once needed. Call ahead to your butcher and order the ground lamb in advance to ensure it will be available.
2 tbsp (25 mL) olive oil
1 cup (250 mL) white onion, finely chopped
¼ tsp (1 mL) chili flakes
¼ tsp (1 mL) cinnamon
¼ tsp (1 mL) ground allspice
1 lb (500 g) ground lamb
½ tsp (2 mL) salt
½ cup (125 mL) sweet potato, peeled and finely chopped
1 plum tomato, finely chopped
1½ cups (375 mL) chicken stock
½ cup (125 mL) sheep's milk feta cheese
2 tbsp (25 mL) fresh mint, finely chopped
1 package phyllo pastry, thawed
1 egg, lightly beaten
4 cups (1 L) vegetable oil
1. In a large sauté pan heat oil and cook onions until translucent, add chili flakes, cinnamon and allspice and cook for 30 seconds longer.

2. Add lamb and cook over medium-high heat until browned, about 10 minutes.

3. Add salt, sweet potato, tomato and chicken stock. Cover and simmer over low heat until sweet potatoes are soft, about 10 minutes. Remove lid and continue to cook until all liquid has evaporated.

4. While still hot mash large pieces of lamb and potatoes with a fork and stir in cheese and mint, refrigerate mixture until chilled.

5. Lay sheet of phyllo on work surface, trim one edge from sheet to form a perfect square, about 12 inches (30 cm) on each side. Place the extra strip diagonally across the square.

6. Working with a corner in front of you place a scarce ¼ cup (50 mL) of lamb mixture 2 inches (5 cm) from corner of square, form mixture into a 4-inch (10-cm) log. Roll corner of pastry over top and continue to roll tightly halfway up the square. Fold side corners over top of the log and continue rolling to form a cigar. With fingertip seal the corner closed with the beaten egg. (If planning to fry cigars at a later time, place them on a plate, cover with a lightly dampened paper towel and wrap plate well with plastic wrap).

7. In a large pot heat vegetable oil over medium-high heat. Check the temperature of the oil by placing a few bread crumbs into oil; if they sizzle it is ready. Once the oil is hot fry the cigars in batches until golden. Drain on paper towel and serve warm.
SHARE