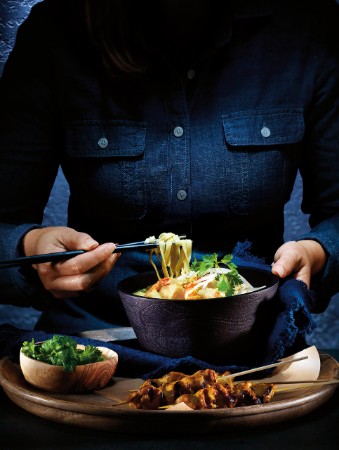 BY: Victoria Walsh
Thanks to a paste-base made from a purée of fresh shallots, ginger, chilies, lemon grass and spice, this Malaysian soup has an intensely complex-flavoured broth.
PASTE
4 shallots
6 garlic cloves
2 long red Thai chilies
1 piece ginger, 3 inches (8 cm) long, peeled
3 lemon grass stalks
1/3 cup (80 mL) vegetable oil
2 tsp (10 mL) dried turmeric

BROTH
3 tbsp (45 mL) vegetable oil
1 lb (500 g) large shell-on shrimp
6 cups (1.5 L) chicken broth
2 cans (each 400 mL) coconut milk
2 tbsp (30 mL) freshly squeezed lime juice
1 tbsp (15 mL) to 2 tbsp (30 mL) brown or palm sugar, to taste

SOUP INGREDIENTS
2 cups (500 mL) fresh, or dried and cooked, egg noodles or cooked rice vermicelli noodles
2 skinless, boneless chicken breasts, thinly sliced
5 oz (150 g) fried bean balls or fried tofu puffs (optional)
2 cups (500 mL) bean sprouts
1 cup (250 mL) cilantro sprigs
1/2 long red Thai chili, sliced for garnishing (optional)

1. For paste, finely chop shallots, garlic, chilies, ginger and lemon grass. Add to blender and pulse. Pour oil into blender and add turmeric. Pulse and scrape down sides as needed until quite smooth.

2. For broth, coat a large deep pot with 3 tbsp (45 mL) oil. Set over medium-high heat. Add shrimp. Cook, turning occasionally for 2 to 4 minutes until bright pink. Remove pan from heat. Using a slotted spoon, remove shrimp to a bowl and set aside. Set pot with shrimpflavoured oil over medium-low heat. When hot, add the paste. Stir often, scraping pan bottom until paste darkens or oil begins to separate, 15 minutes.

3. Meanwhile, remove shells from shrimp and discard. Set shrimp aside.

4. When paste is cooked, slowly pour in chicken broth, scraping bottom as needed. Stir in coconut milk. Bring to a gentle simmer over medium and simmer for 10 to 15 minutes. Squeeze in lime juice. Add sugar to taste.

5. While simmering broth, prepare soup ingredients. Bring a large pot of water to a boil. Cook noodles according to package directions. Using a strainer, remove to bowls. Refresh boiling water if needed. Poach chicken in boiling water for 2 to 3 minutes until cooked. Strain and divide among bowls. Top each serving with shrimp.

6. When broth is hot, add fried bean balls or tofu puffs. When puffs are warm (1 to 3 minutes), pour hot broth and puffs over prepared ingredients in bowls. Top with bean sprouts, cilantro and chilies.


SHARE