Ladyfinger Ice Cream Sandwich Cookies
Été 2005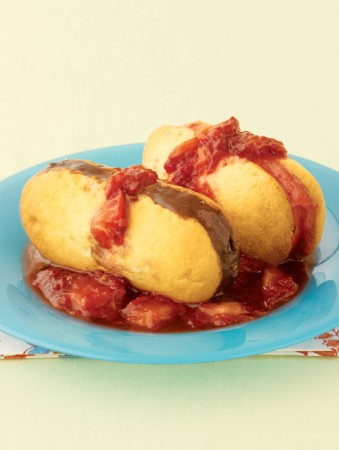 Ladyfinger Ice Cream Sandwich Cookies
Été 2005
BY: Emily Richards
Giant ladyfingers are just that—bigger than the average finger. They are soft and delicious but get a bit softer still as a frozen treat with the addition of the ice cream. Tasty eaten on their own, they're also extra special when drizzled with fresh local strawberry sauce. Make them ahead for up to 1 week. Look for new and different flavours of ice cream available in the stores like real vanilla with white chocolate, or of course you can use your favourite standbys like chocolate or strawberry. If you don't have time to freeze them, use ½ cup (125 mL) mascarpone cheese as the filling instead of ice cream.
One 150 g package giant ladyfinger cookies
1 cup (250 mL) softened ice cream of your choice
2 cups (500 mL) quartered strawberries
¼ cup (50 mL) granulated sugar


1. Spread flat side of half of the ladyfinger cookies with ice cream. Sandwich with the remaining cookies. Wrap each cookie with plastic wrap and freeze for at least 2 hours or until ice cream is firm.

2. Using potato masher mash strawberries and sugar together until chunky and syrup forms. Pool some sauce on dessert plates and top with sandwiched cookies. Drizzle with remaining sauce.
Makes 6 sandwiched cookies
SHARE