Grilled Vegetables with Mushroom Vinaigrette
Summer 2005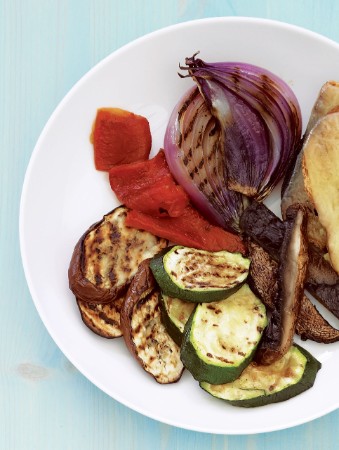 Grilled Vegetables with Mushroom Vinaigrette
Summer 2005
BY: Jennifer McLagan
This mushroom vinaigrette works well on a combination of vegetables. It is also good on sliced grilled beef. Use mixed dried mushrooms or porcini mushrooms. Grill the vegetables ahead of time and serve at room temperature.
½ oz (15 g) dried mushrooms
2 tbsp (25 mL) and 1/3 cup (75 mL) olive oil
2 cloves garlic, peeled and chopped
1 tbsp (15 mL) sherry vinegar
1 tbsp (15 mL) balsamic vinegar
1 tsp (5 mL) fresh thyme leaves
Kosher salt and freshly ground pepper
2 medium zucchini, sliced ¼-inch (5-mm) thick
2 Japanese eggplants, sliced ¼-sinch (5-mm) thick
1 red onion, cut into wedges with the root
4 medium portobello mushrooms, stems removed
Extra-virgin olive oil
1 red pepper
1. Place the dried mushrooms in a small bowl and pour over ½ cup (125 mL) boiling water. Let stand for 30 minutes. Remove the mushrooms and squeeze out the excess liquid. Carefully strain the liquid through a fine sieve and set aside.

2. Finely chop the squeezed mushrooms. In a frying pan, heat 2 tbsp (25 mL) olive oil. Add the mushrooms and garlic and cook gently, stirring, until the garlic just begins to colour. Pour in the strained mushroom soaking liquid and stir to deglaze the pan.

3. Pour the contents of the frying pan into a food processor. Process until blended. Add the 2 vinegars and ¼ cup (50 mL) water and blend again. With the motor running, add the remaining 1/3 cup (75 mL) olive oil. Stir in the thyme leaves and season well with salt and pepper. You will have about 1 cup (250 mL) dressing.

4. Place the zucchini and eggplant slices on a grill or cooling rack over the sink. Sprinkle with kosher salt and leave to drain 15 minutes. Turn and sprinkle again with the kosher salt and leave another 15 minutes. Rinse the zucchini and eggplant and then pat dry.

5. Preheat the grill to high and oil well. Brush the zucchini and eggplant slices, red onion wedges and mushrooms lightly with olive oil. Grill until soft and cooked, about 5-9 minutes. Grill the pepper until it is well blackened on all sides. Place all the cooked vegetables except the pepper on a serving platter. Put the pepper in a small bowl and cover with plastic wrap. Leave until cool, then peel and seed the pepper and cut into pieces, add them to the serving platter. Serve the vegetables with the mushroom vinaigrette.

Tip
Grilling vegetables is easier with a vegetable grate. This perforated metal plate sits on top of the grill and prevents any of the smaller pieces from falling through.
SHARE