Korean-Style Fondue
Spring 2013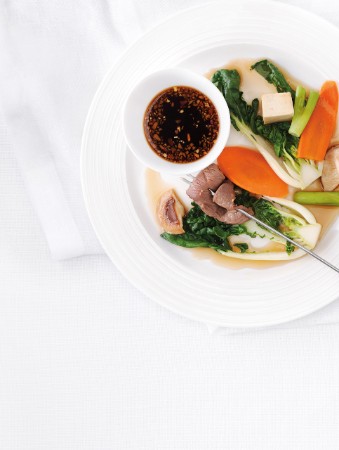 Korean-Style Fondue
Spring 2013
BY: Julia Aitken
This marriage of Korean flavours and the Japanese fondue shabu-shabu is popular in Korea, and a great way to entertain. The ingredients are cooked tableside like a regular fondue, then noodles are added to the broth which is served as a soup at the end of the meal. Look for dried anchovies, shiitakes and kelp, and Korean noodles in Asian grocery stores. If you can't find Korean noodles, Japanese udon are a good substitute.
BEEF
2 well-trimmed boneless rib or sirloin steaks, 1 inch (2.5 cm) thick, about 1½ lbs (750 g)
¼ cup (60 mL) soy sauce
2 tbsp (30 mL) sesame oil
2 cloves garlic, minced
2 tsp (10 mL) granulated sugar
1 tsp (5 mL) minced fresh ginger

BROTH
6 cups (1.5 L) homemade or no-salt-added beef stock
4 dried anchovies
4 dried shiitake mushrooms
4 green onions, coarsely chopped
2 sheets (3 x 3 inch/8 x 8 cm) dried kelp
2 large cloves garlic, bruised
1 dried hot pepper
½ cup (125 mL) Korean rice wine or sake
2 tbsp (30 mL) soy sauce (plus more to taste if necessary)
Hot pepper flakes (optional)

VINEGAR DIPPING SAUCE
½ cup (125 mL) soy sauce
2 tbsp (30 mL) granulated sugar
2 tbsp (30 mL) rice vinegar
2 tsp (10 mL) minced garlic
2 tsp (10 mL) minced fresh ginger
Pinch hot pepper flakes (or more to taste)

FONDUE
3 cups (750 mL) thickly sliced fresh shiitake mushroom caps
1 pkg (350 g) extra-firm tofu, cut into 1 inch (2.5 cm) cubes
6 small baby bok choy, halved lengthwise, washed and drained
2 medium carrots, peeled and very thinly sliced on the diagonal (use a mandoline slicer if you have one)
10 green onions, trimmed and cut into 1 inch (2.5 cm) lengths
10 oz (300 g) fresh Korean wheat noodles, cooked and drained
1 For beef, wrap each steak separately in plastic wrap and freeze for 1 to 1½ hours or until just firm. Unwrap steaks and slice very thinly across the grain.

2 In a large bowl, whisk together soy sauce, sesame oil, garlic, sugar and ginger. Add beef, tossing well to coat thoroughly with marinade. Cover tightly and refrigerate for at least 2 hours or overnight.

3 For broth, combine stock, anchovies, mushrooms, green onions, kelp, garlic and hot pepper in a medium saucepan. Bring to a boil over high heat. Reduce heat to medium-low then simmer, uncovered, for 30 minutes. Strain broth through a fine sieve, discarding flavourings. Pour broth into a fondue pot and stir in rice wine and 2 tbsp (30 mL) soy sauce. Set aside.

4 For vinegar dipping sauce, whisk together soy sauce, sugar, vinegar, garlic, ginger and hot pepper flakes in a small serving bowl until sugar dissolves. Taste and add more hot pepper flakes if necessary. Set aside.

5 When ready to serve, remove beef from marinade and arrange on a serving platter. On a separate platter, arrange mushrooms, tofu, bok choy, carrots and green onions. Arrange noodles on a third platter.6 Bring broth in fondue pot to a simmer on stove. Taste and add more soy sauce and/or a pinch of hot pepper flakes if necessary. Transfer pot to a fondue burner at the table. Surround fondue pot with platters of beef, vegetables and noodles and bowl of dipping sauce. Supply your guests with bowls, fondue forks, chopsticks and tiny bowls for dipping sauce.

7 To serve, have your guests help themselves to dipping sauce, then invite them to cook their choice of beef, vegetables and tofu in simmering broth until done to taste, then eat with dipping sauce. Once all are eaten, add cooked noodles to broth and heat through. Ladle broth and noodles into guests' bowls, dividing evenly.
SHARE