Korean Chicken Wing Dog
Summer 2014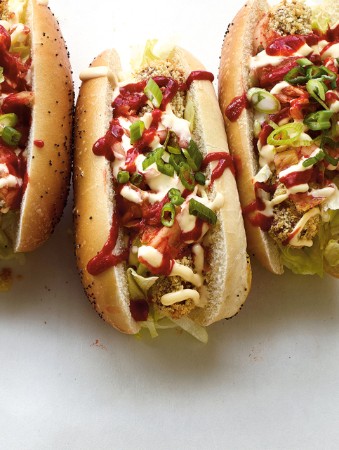 Korean Chicken Wing Dog
Summer 2014
BY: Christopher St. Onge
Crunchy, panko-crusted franks are at the heart of these dogs, but the real star is the sweet-hot Korean chicken wing sauce. Gochujang, kimchi and Kewpie Mayonnaise are available at most Asian grocers as well as Korean specialty shops.
KOREAN CHICKEN WING SAUCE
⅓ cup (80 mL) gochujang (Korean Hot Pepper Paste)
2 tbsp (30 mL) Japanese soy
2 tbsp (30 mL) unseasoned rice vinegar
1 tbsp (15 mL) roasted sesame oil
2 tbsp (30 mL) runny honey
3 cloves garlic, peeled and roughly chopped
1 tbsp (15 mL) chopped ginger

GOLDEN GARLIC MAYO
6 cloves garlic, in their skins
1 tsp (5 mL) vegetable or peanut oil
1 cup (250 mL) Kewpie Mayonnaise, or Miracle Whip
2 cups (500 mL) panko bread crumbs
1 tsp (5 mL) roasted sesame oil
1 tbsp (15 mL) vegetable or peanut oil
½ tsp (2 mL) salt
2 eggs, lightly beaten
½ cup (125 mL) flour
6 chicken franks
6 hot dog buns
1 cup shredded lettuce
1 cup (250 mL) cabbage kimchi, roughly chopped
2 green onions, sliced
1 To prepare Korean chicken wing sauce, place all ingredients in a blender and process until smooth. Turn out into a squeeze bottle or small bowl, cover and refrigerate until ready to use (sauce will keep in fridge for up to 5 days).

2 Preheat oven to 425°F (220°C).

3 For golden garlic mayo, place garlic cloves on a piece of foil large enough to enclose cloves; drizzle with oil and seal foil around garlic. Roast in preheated oven for 25 minutes. When cool enough to handle, squeeze garlic flesh from skins; discard skins. Combine garlic with mayonnaise in blender; process until smooth. Set aside while preparing franks.

4 In a large shallow bowl, stir together panko, sesame oil, vegetable oil and salt. Place eggs in a separate shallow bowl and flour in another. Working with 1 frank at a time, coat first in egg, then flour, then egg again; finish with panko, pressing lightly to adhere. Arrange on a rack set over a baking sheet; repeat with remaining franks. Roast for 12 minutes or until golden.

5 To assemble, open buns and divide lettuce between them; place a frank in each and divide kimchi amongst dogs. Drizzle each with golden garlic mayo and Korean chicken wing sauce. Garnish with green onion.
SHARE