Korean Chicken Legs and Thighs
Summer 2016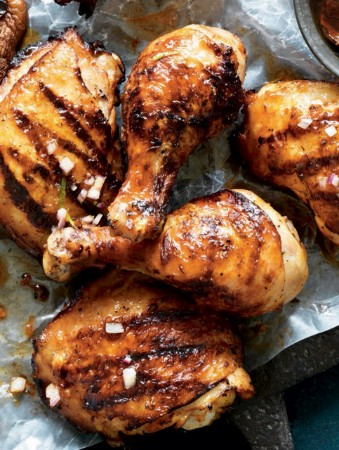 Korean Chicken Legs and Thighs
Summer 2016
BY: Lucy Waverman
Korean chili sauce is called gochujang. It is available in some supermarkets and most Asian stores. It is thick, sweet and spicy. Serve this with rice, grilled onions and mushrooms. Buy legs and thighs with the bone in and the skin on for better flavour. You can always remove the skin afterwards if you want.
KOREAN BARBECUE SAUCE
2 tbsp (30 mL) vegetable oil
2 tbsp (30 mL) seasoned rice vinegar
2 tbsp (30 mL) soy sauce
2 tbsp (30 mL) gochujang
1 tbsp (15 mL) grated ginger
2 tsp (10 mL) grated garlic
1 tsp (5 mL) granulated sugar
1 tsp (5 mL) sesame oil
4 chicken legs with the skin on
4 chicken thighs with the skin on
1 tbsp (15 mL) vegetable oil for brushing

FINISHING SAUCE
2 tbsp (30 mL) lime juice
2 tbsp (30 mL) chopped shallots
3 tbsp (45 mL) soy sauce
2 tbsp (30 mL) sugar
1 tsp (5 mL) grated ginger
1 tsp (5 mL) grated lime rind

GARNISH
Kimchi
1 Combine oil, rice vinegar, soy sauce, gochujang, ginger, garlic, sugar and sesame oil in a bowl. Brush lightly over chicken legs and thighs, reserving remainder. Let sit for 15 minutes.

2 Combine lime juice, shallots, soy sauce, sugar, ginger and lime rind and stir until sugar is dissolved. Reserve.

3 Preheat grill to medium, about 350°F (180°C).

4 Brush oil on chicken and place on grill. Grill, turning occasionally, for 15 minutes. Brush with remaining barbecue sauce and cook until chicken is cooked through and browned, about another 5 to 10 minutes. Remove to a platter and serve drizzled with finishing sauce. Surround with vegetables and serve kimchi alongside.
SHARE