Korean Barbecue Short Ribs
Summer 2001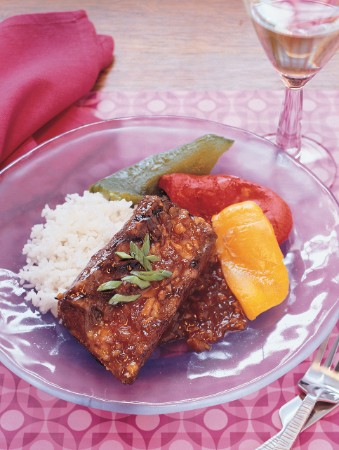 Korean Barbecue Short Ribs
Summer 2001
BY: Lucy Waverman
This is a dish for true meat lovers. Short ribs have mega flavour and more texture than other cuts. They need to be cooked rare or medium-rare otherwise they will be chewy. Short ribs come in different sizes. Usually 1 strip per person is enough. Serve with rice and a grilled pepper salad. Korean chilli sauce has more body and less heat than the Asian variety.
6 strips beef short ribs

Marinade
1 onion, finely chopped
2 tbsp (25 mL) chopped garlic
1 cup (250 mL) soy sauce
1/4 cup (50 mL) sugar
1 cup (250 mL) beer
1/4 cup (50 mL) sesame oil
1/4 cup (50 mL) finely chopped fresh ginger
1 tbsp (15 mL) Korean or Asian chilli sauce
Vegetable oil to brush ribs
1. Score meaty side of ribs, opposite bone, 1/2-inch (1-cm) apart, 1/2-inch (1-cm) deep. Place ribs in large shallow bowl.
2. Combine all marinade ingredients. Pour half of marinade over ribs, reserving remainder. Refrigerate 24 hours, covered, turning ribs occasionally.
3. Brush oil on ribs. Grill ribs with the lid down, turning occasionally, for 14 to 18 minutes or until brown, crisp and rare to medium-rare.
4. Bring reserved marinade to boil in pot on medium-high heat. Simmer for 6 to 8 minutes or until slightly thickened. Cut ribs through the bones and serve with sauce.

Grilled Pepper Salad
1 green pepper, cut in half
1 red pepper, cut in half
1 yellow pepper, cut in half
4 green onions, slivered
2 tbsp (25 mL) rice vinegar
1 tsp (5 mL) lemon juice
3 tbsp (45 mL) soy sauce
1 tsp (5 mL) sugar
1 tsp (5 mL) Asian chilli sauce
1 tsp (5 mL) sesame oil
1 tbsp (15 mL) vegetable oil
Salt to taste
1.  Preheat grill to high. Place peppers skin-side down and grill until skin blisters, about 5 minutes. Turn over and grill second side about 4 to 5 minutes. Remove from grill, cool slightly and remove skins. Slice into strips.

2.  Combine pepper strips and onions. In a bowl, whisk together remaining ingredients. Toss with peppers and serve with ribs,
SHARE