Kohlrabi Julienne Salad
Printemps 2009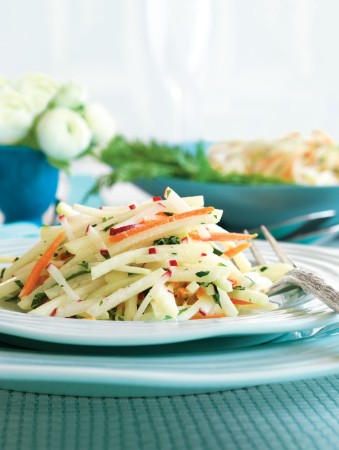 Kohlrabi Julienne Salad
Printemps 2009
BY: Marilyn Bentz-Crowley
Pale green kohlrabi is a variety of cabbage with a very mild broccoli taste and a pleasing crispness. The peppery radishes and sweetness of tender young carrots add to the freshness of this crunchy salad.
3 to 4 medium kohlrabi
3 carrots with green tops
5 medium radishes
1⁄4 cup (50 mL) finely chopped fresh parsley
1⁄4 cup (50 mL) sour cream or buttermilk
1⁄4 cup (50 mL) mayonnaise
1 tsp (5 mL) freshly squeezed lemon juice
1⁄2 tsp (2 mL) Dijon mustard
1⁄4 tsp (1 mL) salt
Generous pinch of freshly ground black pepper
1. Remove kohlrabi tops; thinly slice off outer rind of kohlrabi bulbs. Julienne remaining bulb with a mandoline or food processor fitted with julienne blade. Place in a glass bowl.

2. Remove tops from carrots; wash, roll up tops in a paper towel. Cover with plastic wrap and set aside in the refrigerator for later. Julienne carrots; add to kohlrabi. Trim radishes; julienne. Add radishes to kohlrabi along with parsley; toss.

3. For dressing, slowly whisk sour cream into mayonnaise; then stir in lemon juice, mustard, salt and pepper until well mixed.

4. Pour dressing over kohlrabi; lightly toss until well mixed. (Salad can be covered and refrigerated for up to a day.

5. When ready to serve, decoratively drape a bowl with carrot tops allowing some feathery tips to adorn the bowl edge. Stir slaw and turn into bowl.
SHARE