Kofte with Creamy Sesame-Parsley Drizzle
Early Summer 2014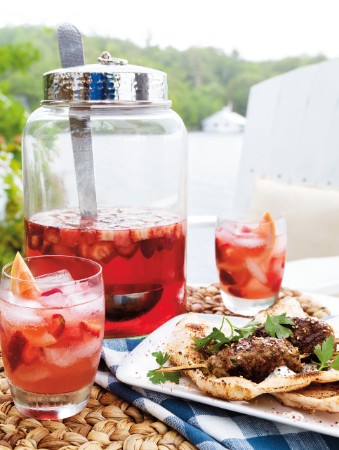 Kofte with Creamy Sesame-Parsley Drizzle
Early Summer 2014
BY: Victoria Walsh
This Turkish-inspired appetizer could be likened to a spiced hamburger-meets-meatball skewer. The skewers are a snap to put together and make a great snack for arriving guests. If making ahead, yogurt sauce will keep well, covered and refrigerated, for up to 3 days.
8 skewers
½ cup (125 mL) thick Turkish or Greek-style yogurt
1 tbsp (15 mL) freshly squeezed lemon juice
1 tbsp (15 mL) finely chopped parsley
2 tsp (10 mL) toasted sesame seeds
2 generous pinches of salt
1 lb (500 g) ground lamb
½ cup (125 mL) finely chopped onion
2 tbsp (30 mL) each finely chopped fresh parsley and mint
½ tsp (2 mL) salt and freshly ground pepper
Oil for grill
8 torn pieces of flatbread or pita
Generous pinches of sumac (optional)
1 If using wooden skewers, soak in warm water for at least 20 minutes. To prepare sauce, stir yogurt with lemon juice, 1 tbsp (15 mL) parsley, sesame seeds and salt in a small bowl.

2 Prepare kofte by crumbling lamb into a large bowl. Sprinkle with onion, remaining 1 tbsp (15 mL) parsley, mint, salt and pepper. Using your hands, evenly mix ingredients. Divide mixture into 8 portions. Mould each portion around each skewer.

3 Preheat barbecue to medium-high, 500° to 600°F (260° to 315°C).

4 Oil grill. Place skewers on grill. Barbecue for 10 minutes or until charred and cooked through. Turn halfway through barbecuing. Add flatbread to grill for last 2 minutes of barbecuing. Serve each kofte over a piece of flat bread drizzled with yogurt sauce. Sprinkle with sumac and more parsley and sesame seeds, if you like. Serve warm.
SHARE