King Crab in Blood Orange Butter on Lemon Pear Arugula Salad
Winter 2008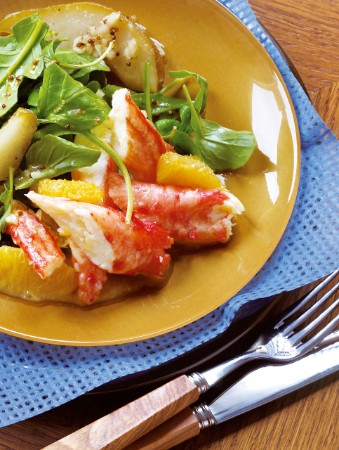 King Crab in Blood Orange Butter on Lemon Pear Arugula Salad
Winter 2008
BY: Anna Olson
Blood oranges are in season this time of year and add richness to already decadent crab. Lemon provides an altogether different lesson in wine pairing using citrus while the arugula and mustard cleanse the palate to a sensitive wine-tasting exam. School exams were never this much fun!
Lemon Pear
2 Anjou pears
¼ cup (50 mL) honey
1 lemon
1 tbsp (15 mL) butter
Black pepper

Vinaigrette
1 tbsp (15 mL) coarse grainy mustard
1 tbsp (15 mL) minced shallot
2 tbsp (25 mL) lemon juice
½ tsp (2 mL) honey
⅓ cup (75 mL) canola oil
Salt and pepper

King Crab
¼ cup (50 mL) dry white wine
1 tbsp (15 mL) minced shallot
3 blood oranges
8 oz (250 g) King crab meat, removed from shell and cut into pieces
½ cup (125 mL) butter, cut into pieces and chilled
Salt and pepper

For Assembly
2 bunches arugula, washed and trimmed
1. To make lemon pear, preheat oven to 375°F (190°C).

2. Slice each pear into 8 segments, remove core (leave skin on) and place in a baking dish. Heat honey with peel from lemon (removed with a vegetable peeler) and juice with butter on low heat for 5 minutes. Pour honey and lemon peel over pears and toss. Sprinkle lightly with black pepper and bake for about 20 minutes, until pear is tender. Remove lemon peel and hold pear at room temperature.

3. To make vinaigrette, whisk mustard, shallot, lemon juice and honey. Gradually whisk in oil until incorporated. Season to taste and set aside.

4. To make crab, place wine and shallot in a small saucepan. Peel oranges with a knife, and remove orange segments with a paring knife so that they are free of pith, squeezing juice from membrane. Add blood orange juice into saucepan (setting aside orange segments) and reduce mixture to about 2 tbsp (25 mL). Stir in crab to warm. Over medium-low heat, add cold butter, a few pieces at a time, until all has been added. Season to taste and stir in reserved blood orange segments, stirring gently just to warm.

5. To serve, arrange arugula on each plate. Drizzle vinaigrette over and place 2 pear slices on each plate. Spoon warm crab beside greens and serve.
SHARE